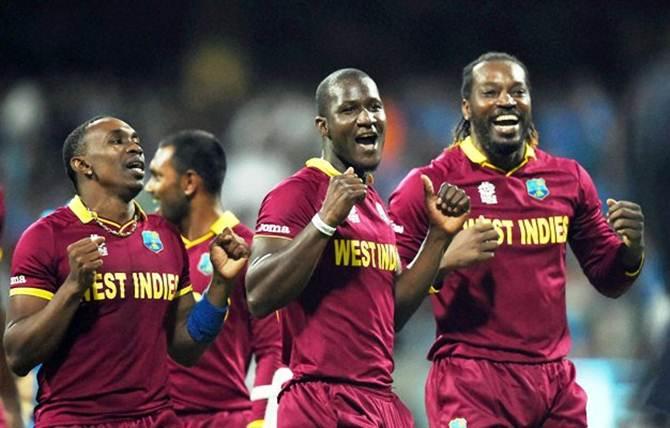 IMAGE: Dwayne Bravo (left), Darren Sammy (centre) and Chris Gayle celebrate after the West Indies beat England in the World T20 final. Photograph: Danish Siddiqui/Reuters
Senior West Indies cricketers Chris Gayle, Dwayne Bravo and Darren Sammy lashed out at the country's selectors for ignoring them for the ODI tri-series involving Australia and South Africa next month.
The trio were part of the World T20-winning team.
Instead, Kieron Pollard and Sunil Narine, who both did not play in the World T20, were named in the squad.
Bravo took to Twitter to express his displeasure at the selectors' logic.
"Joke of the day: WI selectors?? One minute Pollard & Narine were not good enough & now are perfect for Tri Nation series? It's like magic!" wrote Bravo, who is currently playing in the Indian Premier League.
He added: "One minute we have to be available for domestic super 50 to be selected and the next minute, it seems we don't. Magic! Get serious people!"
In a series of posts, Gayle and Sammy also vented their ire.
"@KieronPollard55 & #SunilNarine selected for WI Tri-Series. How is that possible @westindies?" asked Gayle on Twitter.
"WICB stop Sunil from playing super 50 and now they pick him. If @KieronPollard55 was fit he would've play the B Bash just like the rest of us!!," the southpaw said in another post.
Sammy, mentioning Pollard in his tweet, wondered how the all-rounder made a comeback.
"@KieronPollard55 great to see u back in odi team but tell me how did u qualify for selection having not played the super50 or ODI since 2014," Sammy wrote.