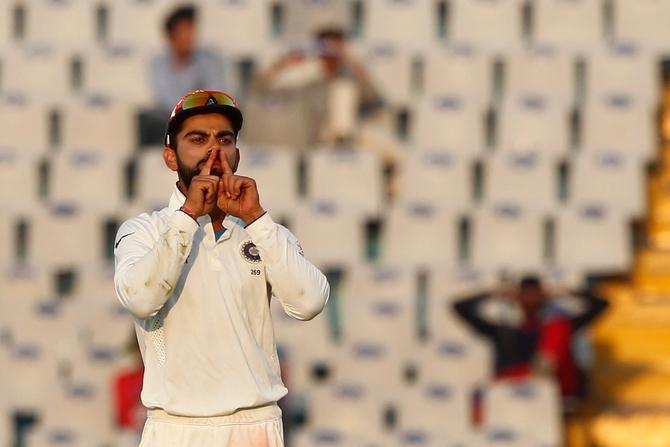 IMAGE: Virat Kohli Captain of India silent celebration after the wicket of Ben Stokes of England. Photograph: BCCI.
Expressing his displeasure over Virat Kohli's behaviour, legendary Indian batsman Sunil Gavaskar has slammed the Indian skipper for engaging in war of words with Ben Stokes after the England all-rounder's dismissal on Day One of the ongoing third Test in Mohali.
The incident took place during the 44th over in the post lunch session on the opening day when Stokes, who had played the spinners well till that point, was foxed by all-rounder Ravindra Jadeja and stumped by Parthiv Patel.
Following his dismissal, the TV replays showed Virat giving Stokes, who himself is a character with a short fuse at the best of times, a send-off. The England all-rounder then stopped on his way to the pavilion and offered a retort of a similarly crude nature before on-field umpire Marais Erasmus had to intervene.
Insisting that there was no need of giving a send off, Gavaskar said Kohli should instead have appreciated his team-mates and Parthiv for their fine piece of work.

"Whatever was said, it really needs to be nipped in the bud. You have got the batsman out, why do you need to give him a send off?" cricket.com.au quoted Gavaskar as saying.

"Why say anything? Just congratulate your team-mates and Parthiv Patel for a fine piece of work on his comeback. But why say anything to the batsman? He's upset as it is. Then what, rub salt into the wounds? It's the one part of cricket I do not approve of at all," added the former Indian batsman, who was behind the microphone for BBC Test Match Special.

While Kohli escaped any punishment, Stokes was reprimanded by the International Cricket Council (ICC) for his role in the verbal confrontation with the Indian skipper.