- 'Let him (Dhoni) play at number four. He will finish from there. Finisher does not mean he has to bat from the 40th over.'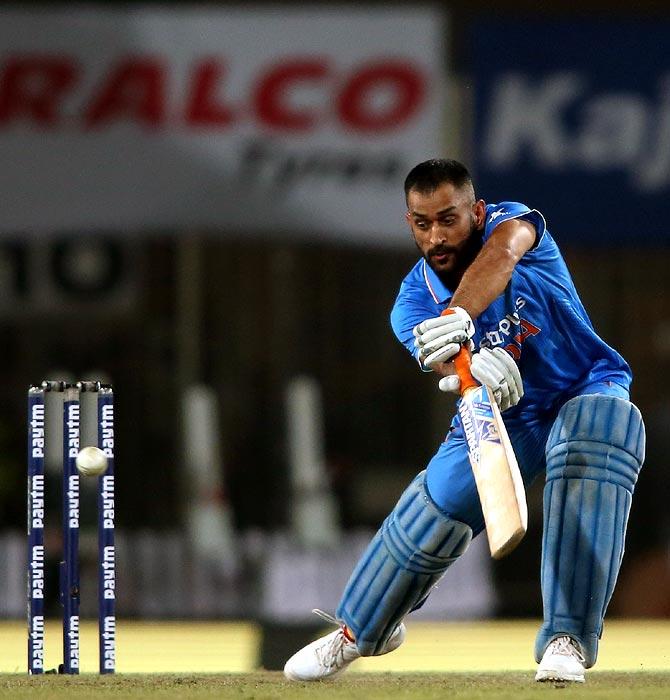 IMAGE: Mahendra Singh Dhoni bats during the fourth ODI. Photograph: BCCI
Former India captain Sourav Ganguly insisted that Mahendra Singh Dhoni should stick to batting at No. 4 which will enable him and Virat Kohli to play the finishers' role.

"Let him play at number four. He will finish from there. Finisher does not mean he has to bat from the 40th over."
"Virat (Kohli) bats at three and he is finishing games. It's a wrong concept that a finisher has to come lower down the order. Dhoni got India over the ropes in the other match batting at four," Ganguly said in Kolkata, on Thursday.

New Zealand beat India by 19 runs while defending 260 in the fourth ODI in Ranchi on Wednesday, with Kohli scoring 45 and Dhoni managing a sedate 11 off 31 balls.

Ganguly pointed out that India are becoming over dependent on Kohli.

"He (Kohli) is an excellent player, but I don't think the team is becoming too dependent on him. New Zealand is a good side, they will win some matches also," he said.

India have batted second in all four ODIs in this series, and interestingly, both their wins came when Virat Kohli has stayed unbeaten till the end. He hit an unbeaten 85 to help India win by six wickets in the first match in Dharamsala and then smashed a magnificent 154 not out in Mohali in the third ODI to steer India to a seven-wicket victory.

And in the other two games, in which he has failed to make a sizeable contribution, India have failed to chase down targets. In the second match in Delhi, he was dismissed for nine as India failed to chase down 243 and in Ranchi also they were unable to get to 261 despite the right-hander scoring a fluent 45.