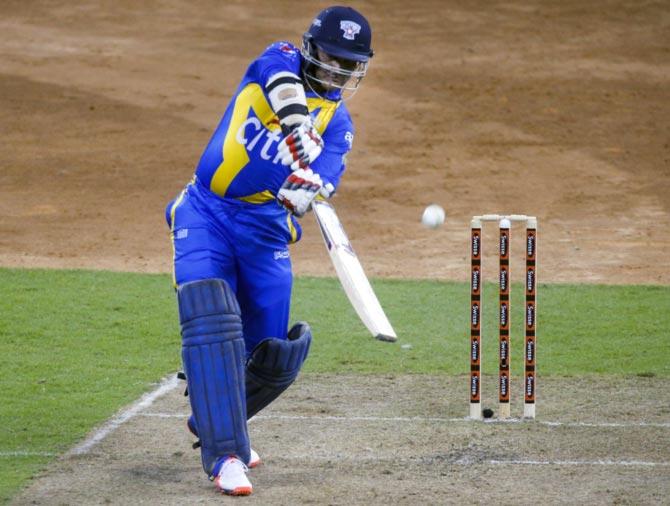 IMAGE: Sourav Ganguly in action for Sachin's Blasters against Warne's Warriors during the Cricket All-Stars T20 match at Minute Maid Park, in Houston, Texas, on November 11, 2015. Photograph: Bob Levey/Getty Images
Former India captain Sourav Ganguly will join compatriot Virender Sehwag and other top cricketers from around the world in the inaugural edition of the Masters Champions League Twenty20 tournament, to be held in the United Arab Emirates in January.
- All-Stars PHOTOS: 'Celebrating cricket' as legends turn back the clock
Sehwag and Ganguly will star in the franchise-based league for ex-cricketers alongside former greats Brian Lara, Graeme Smith, Jacques Kallis, Wasim Akram, Adam Gilchrist and Michael Vaughan.
Players who have officially retired from international cricket will feature in the T20 tournament at the Dubai International Cricket Stadium, Abu Dhabi's Sheikh Zayed Cricket Stadium and Sharjah Cricket Stadium -- destinations which have previously hosted cricket tournaments including the Indian Premier League, as well as One-Day and Twenty20 Internationals and Test matches.
The matches are due to take place over two weeks in February 2016.
Former Australia batsman Allan Border and ex-England captain Graham Gooch are members of the MCL governing council.
The tournament will comprise six teams in its first year, with a total of 90 players taking part in 15-member squads.
The 'Libra Legends' team, which will play in the MCL, was launched in Mumbai on Monday. The team, owned by Pooja Jhunjhunwala, Lalit Kiri and Hanwant Khatri of Popcorn Sports & Entertainment Private Limited, is the first team to be unveiled for the league.
The players' auction will take place in Dubai on November 7.
The MCL, a Twenty20 league planned for retired cricketers in the UAE next year, has got approval of the International Cricket Council. It is the second tournament for retired cricketers after Sachin Tendulkar and Shane Warne recently hosted their All Stars League T20 matches in the US.