'He has shown how consistent he is.'
Harish Kotian/Rediff.com listens to Gautam Gambhir assess his Delhi team-mate.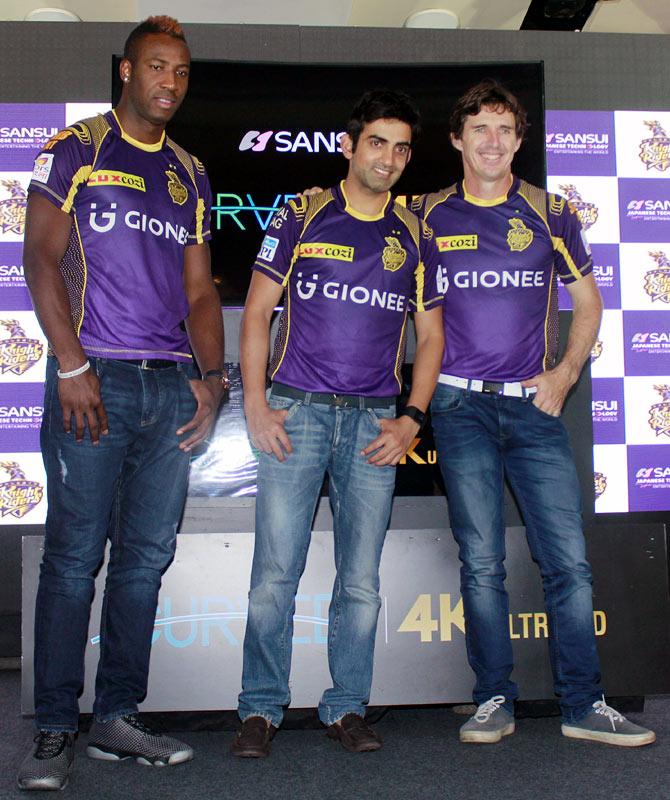 IMAGE: Kolkata Knight Riders Captain Gautam Gambhir, centre, with team-mates Andre Russell, left, and Brad Hogg at a promotional event in Mumbai, April 25, 2016. Photograph: Hitesh Harisinghani/Rediff.com
Gautam Gambhir hails Virat Kohli's sensational run with the bat and says every cricketer should strive for that level of consistency at the international level.
Kohli has been unstoppable with the bat in the Indian Premier League so far. The Royal Challengers Bangalore captain is the leading scorer in IPL 9 with 367 runs from 5 games including a century and three 50s at an average of 91.
This comes after his stupendous run with the bat in the World T20 where he smashed 273 runs at an astonishing average of 136 with three half-centuries.
Asked what he feels is the secret for Kohli's consistent run with the bat, Gambhir, who plays domestic cricket with Kohli for Delhi, says "Confidence!"
"Confidence is very important. I think sometimes you want to keep doing the same things to prolong your form and he has been doing that really well."
"Obviously consistency is very important in all forms of the game and he has shown how consistent he is and that is what you strive for, that is what you wish for in international cricket, that you can continue that form for as long as possible. He has been doing that and hopefully he can continue in the same vein," he adds.
Gambhir, who has played 56 Tests, 147 ODIs and 37 T20Is for India, believes that performances in the IPL should not be a criteria to select players for India's ODI and Test teams.
"I am a strong believer that T20 is not the format where you should try and see talent and you should not select the 50 over or Test side from T20s," Gambhir, once seen as a future India capitan, says.
"It has to be through your first class cricket. You got to give more importance to your first class cricket because that is how you are going to get the depth of talent into the bigger league."
"T20 cricket is something where you might not be tested mentally or technically. It can be a lot more physical in T20s," says the Kolkata Knight Riders captain, who was in Mumbai at the launch of Sansui's new Curve 4K Ultra HD LED TV series.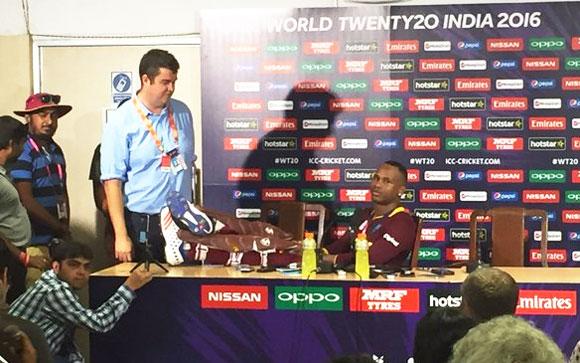 IMAGE: Marlon Samuels with his feet on the table at the media conference after the World T20 final. Photograph: Twitter
KKR all-rounder Andre Russell believes his West Indian teammate Marlon Samuels' antics of keeping his feet on the table at the media conference after the Windies won the World T20 final against England "wasn't good."
"A lot of people ask me if he is from Jamaica. Yeah, he is Jamaican, but he is a different Jamaican. He is a confident fellow. He played a tremendous innings in Sri Lanka in 2012 and he has done it again."
"I heard that when he went into the media conference he put his feet up. And I don't know how to explain that, but it wasn't good," Russell says.
The International Cricket Council has come down hard on the West Indian players' behaviour after the World T20 final.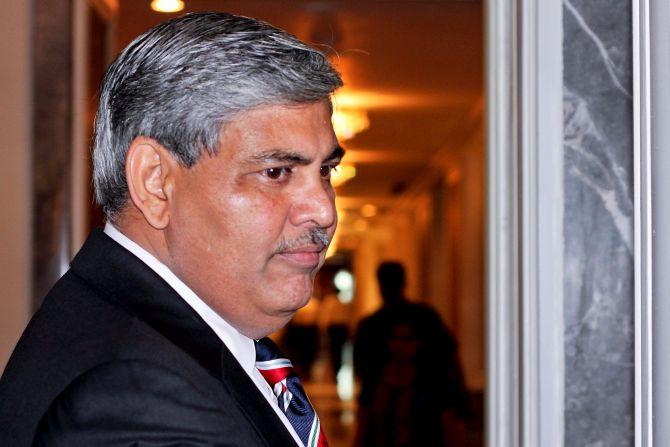 IMAGE: ICC Chairman Shashank Manohar. Photograph: Ritam Banerjee/Getty Images
'The Board considered the behaviour of some of the West Indies players in the immediate aftermath of the final, and unanimously agreed that certain comments and actions were inappropriate, disrespectful and brought the event into disrepute.'
'he Board acknowledged an apology by the WICB (West Indies Cricket Board), but was disappointed to note that such behaviour had detracted from the success of what was otherwise a magnificent tournament and final,' the ICC said in a media statement on Monday.
'The sport of cricket is proud of its unique spirit and this involves being gracious in victory as well as defeat and respectful at all times to the game, one's opponents, the sponsors and the fans,' ICC Chairman Shashank Manohar stated.
'The Board also noted that very serious consideration had been given to bringing Code of Conduct charges in respect of the behaviour of the West Indies players and emphasised that this was not acceptable conduct at ICC events played out on a world stage in front of millions of people around the globe,' the ICC added.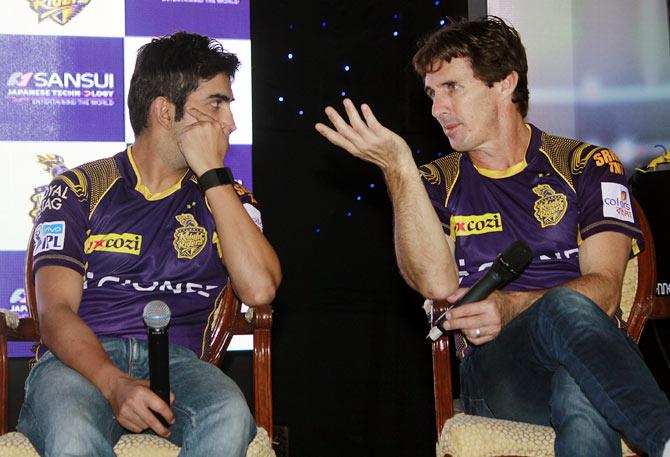 IMAGE: Gambhir with senior KKR spinner Brad Hogg. Photograph: Hitesh Harisinghani/Rediff.com
Veteran Australian spinner Brad Hogg feels fellow spinner Sunil Narine has come back stronger after his ban for a suspect bowling action.
The KKR mystery spinner has taken 5 wickets in 3 games after his return from suspension.
The West Indian spinner was suspended in November after being reported during an ODI game in Sri Lanka. Narine got his action modelled after which he had a retest in Chennai in March following which he was allowed to resume playing international and domestic cricket.
Hogg believes Narine's ban for a suspect bowling action was harsh. "He has really worked hard," says Hogg. "I have a lot of respect for Sunil. He is being put under fire, but he is not the only one."
"There are a few others that should have gone through the process that he has. I think he has been harshly done by, but he has gone and rectified it."
"He has got a fantastic action," Hogg adds. "I have seen him. I have faced him. I have faced him when he hasn't bent his arms. He bowls with a straight arm and he can do whatever he does legitimately and he is very hard to pick."
"I am very pleased with what Sunil has done. I am glad with the way he has approached it and the way he has turned it around. He has come back and he has proved himself in the IPL."