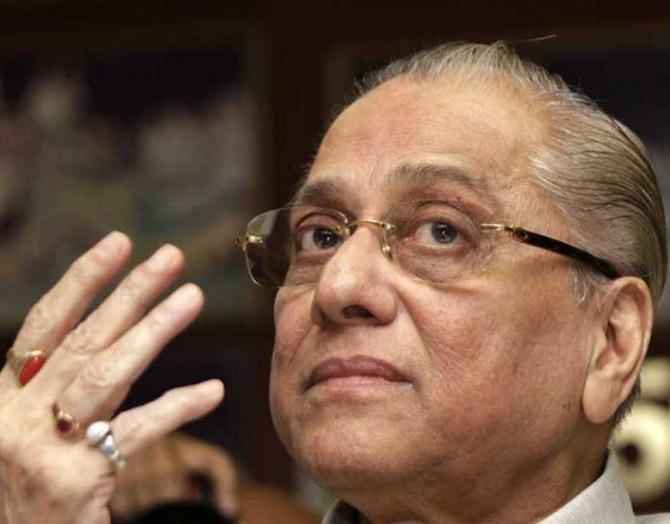 Jagmohan Dalmiya passed away on Sunday evening following massive cardiac arrest. Photograph: PTI
THE cricket fraternity and Prime Minister Narendra Modi condoled the death of Board of Control for Cricket in India president Jagmohan Dalmiya.
#RIP Jagmohan Dalmiya flooded social media sites.
'Cricket has lost a very experienced and seasoned administrator'
BCCI chief Jagmohan Dalmiya passes away
Iconic batsman Sachin Tendulkar mourned Dalmiya's sudden demise, terming it a huge loss for the game of cricket.
In a long tweet, he poured his heart out: "Heartfelt condolences to the family and friends of Jagmohan Dalmiya. I had met him in June. Little did I realise that it would be the last. I will always cherish his encouragement and support over the years. He worked hard for the game of cricket and excelled as an administrator. I was touched by his efforts to make my penultimate Test at Eden Gardens very special. RIP Jagmohan Dalmiya."
India's Test captain Virat Kohli, expressing his emotions on Twitter, posted: "Saddened to hear the news about Dalmiya Ji's demise. Heartfelt condolences to his family and friends."
VVS Laxman tweeted: "Dalmiya Ji's contribution 2 Indian cricket was immense. He was an astute administrator&a visionary.His demise is a huge loss to Indian cricket."
Rohit Sharma: "#Rip Dalmiya sir. My heartfelt condolences to the family."
Suresh Raina also expressed his grief. "Big loss for India cricket. Mr Dalmiya always showed the way. Rest in Peace sir#RIP."
Shikhar Dhawan wrote on his Twitter feed: "Deepest condolences to the Dalmiya Family. Dalmiya Saab's contribution."
President Pranab Mukherjee and Prime Minister Modi also condoled the death of Dalmiya.
"Heartfelt condolences on the passing away of Shri Jagmohan Dalmiya," President, Pranab Mukherjee tweeted.
"My thoughts are with the family of Shri Jagmohan Dalmiya in this hour of grief. May Shri Dalmiya's soul rest in peace," tweeted Prime Minister Modi.