'I try and stay strong when the wicket is difficult'
'I try to motivate myself'
'It's always tough as weather is not in our hands'
'Test cricket is all about getting adjusted to difficult conditions and wickets'
'Sometimes, you have to give credit to bowlers. You have to accept it'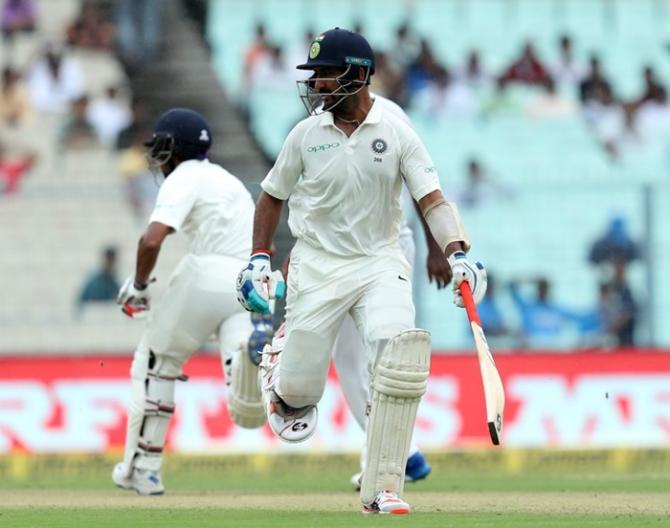 IMAGE: A classic Test match batting from Cheteshwar Pujara. Photograph: ICC/Twitter
Cheteshwar Pujara is known for his penchant for hitting big hundreds but believes that his 52 on a seaming Eden Gardens track is more apt reflection of his strong character in adverse conditions.
Pujara's 52 in India's first innings score of 172 was a classic Test match batting on a tough track.
"I always love playing on challenging wickets. It suits my technique and temperament. That's where your character comes out and you feel that you are confident and can pull a team out of trouble. I try and stay strong when the wicket is difficult," Pujara said.
"In such situations, I try to motivate myself and tell myself "Today is the day where I have to stay strong and show my character'."
The frequent rain interruptions had made it more difficult to consolidate as Pujara was 47 unbeaten overnight after two days of play of 165 minutes.
"It's always tough as weather is not in our hands. Test cricket is all about that when you need to learn as a batsman and bowler. It's tough for a batsman when there's a rain interruption."
"We were looking good and just got the momentum and suddenly rain interruption. Test cricket is all about that, getting adjusted to difficult conditions and wickets," said Pujara.
Pujara had no complaints about the green top that has been laid for this particular Test match.
"We are ready to play on any kind of wickets. There were some help for pacers against New Zealand last time too when we played here. We are ready for any conditions."
Having played county for Nottinghamshire has helped the 29-year-old immensely, he said.
"In this season, I played eight games --almost of half of the county games, four before Sri Lanka tour and four after that. It gave me lot of exposure. At the same time, I have played on many challenging wickets and as a cricketer I have learnt many things and I am improved and understood my game," he said.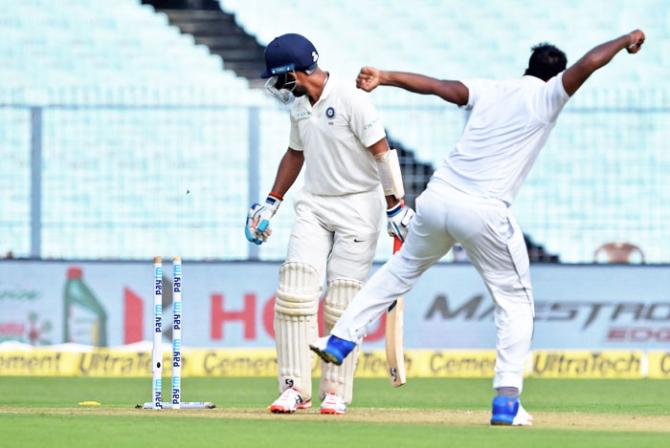 IMAGE: Cheteshwar Pujara bowled by Sri Lankan bowler Lahiru Gamage. Photograph: Swapan Mahapatra/PTI
Pujara was cleaned up by a beauty by Lahiru Gamage as the ball sharply cut back in and he had no answer to that delivery.
"There was enough deviation in that delivery and I got out. There was enough help for fast bowlers. I was batting well apart from that particular ball. Sometimes, you have to give credit to bowlers. You have to accept it. As long as you're in the crease, you have to rotate strikes and score runs," Pujara said.
Pujara, on Saturday, appeared confident and said their 172 total was a decent one to win the opening cricket Test against Sri Lanka.
"We are very much in the game, the wicket has got better. We have got four wickets and confident that we will try and make a game out of it," Pujara said.
This was India's second lowest score against Sri Lanka in India after 167 in Chennai in December 2005 as only the second time the islanders have dismissed them below 200 in this country.
"On a challenging wicket like this, you don't always get 300-400. We might have added 30-40 more runs but I think 170 is still a decent total considering the way wicket was behaving in last two days. If we have enough number of overs, we have a chance of making the match."
The key will be to start off well on Sunday.
Pujara reckons that there is still something in it for the pacers.
"There's something in it for the pacers. They started well but we have fought back. Now we are very well-balanced. Hopefully tomorrow morning our fast bowlers will be fresh. If we get a couple of early wickets, then we can run through them."