Australia removed Sri Lanka's openers cheaply to leave the tourists clinging on at 65 for two and chasing an imposing 393 runs for victory at the close of play on the fourth day of the first Test on Monday.
There was bad news for the hosts on the injury front, however, with skipper Michael Clarke retiring hurt after smashing 57 runs off 46 balls to help drive his side to 278 in their second innings.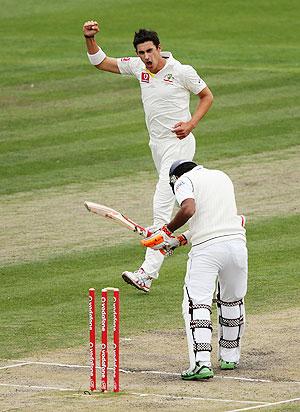 Coach Mickey Arthur said the 31-year-old, the highest run scorer in Test cricket this year with 1,489, had suffered a hamstring injury but would play on in Hobart even if he might miss the second Test in Melbourne.
"I think you'll have to cut Michael's leg off from him not to be out there," he said.
"He certainly wants to marshal the troops and I think he certainly wants to be there if hopefully sometime tomorrow we can clinch a win."
Sri Lanka were dismissed for 336 on Sunday in reply to Australia's first innings 450 for five declared and will need to set a new record for a fourth innings run chase at Hobart to beat the 369 Australia scored against Pakistan in 1999.
"Surely in 90-odd overs there's eight balls that have got wickets on them?" Arthur added.
"I've got full confidence that we've got an attack that has ability to get those eight wickets tomorrow."
At stumps, Sri Lanka's hopes were in the experienced hands of Kumar Sangakkara (18 not out) and skipper Mahela Jayawardene, who took 25 balls to get off the mark and was unbeaten on five.
Spinner Rangana Herath, who took five for 95 to mop up Australia's tail, said the Sri Lankans were still going for a win despite the enormity of their task.
"If we can bat through the first session without losing a wicket, it's going to be a good game," he told reporters. "It's just an up-and-down track. It's going to be an interesting day."
While the Sri Lankan bowlers had to wait for their reward after being frustrated by the hosts' openers for much of the morning, their Australian counterparts made a more immediate impact.
Shane Watson, taking on a bigger bowling burden after Sunday's side injury to quick Ben Hilfenhaus, struck with his first ball to remove Tillakaratne Dilshan, who made 147 in the first innings, caught behind for 11.
Dimuth Karunaratne had put 30 runs on the board when he also fell victim to a superb delivery - a sizzling Mitchell Starc yorker which hammered into the base of the off-stump.
Despite his injury, Clarke had led his team out to field but missed a chance to remove Sangakkara when he dropped the ICC Cricketer of the Year in the slips when the batsman was on three.
PRE-LUNCH APPETISER
In the morning sunshine, openers David Warner (68) and Ed Cowan (56) had combined for a partnership of 132 but both were removed in the half hour before lunch in an appetiser for what was to come in the second session.
Herath had been belted for a six and a switch-hit four by Warner but got his revenge when his carrom delivery took a bottom edge and carried to the wicketkeeper.
Cowan joined his partner in the pavilion 15 minutes later when Chanaka Welegedara, who finished with 3-89, swung in a fizzing delivery which hit the Australian's pad before taking off the bails.
Watson suffered torrid examination from Herath before he was stumped by wicketkeeper Prasanna Jayawardene for five soon after lunch to bring Wade in at number five as Australia looked to up the run rate heading towards the expected declaration.
Three overs later, however, Phil Hughes played the ball onto his own wicket to depart for 16 and Wade did not last that much longer before holing out to Kulasekara for 11.
After Clarke's departure, Peter Siddle (four), Starc (five) and Lyon (11) made brief appearances before Herath trapped Hilfenhaus lbw for a duck to end the innings at tea.
The final wicket gave Herath 60 for 2012 to put him ahead of England's Graeme Swann in their personal duel to decide the most prolific wicket-taker of the year.
"That's a good achievement I guess," he said.
"I'm really happy with the way I bowled all day."
Scoreboard:
Australia first innings: 450-5 declared
Sri Lanka first innings: 336
Australia second innings (overnight 27-0)
E Cowan b Welegedera 56
D Warner c P Jayawardene b Herath 68
P Hughes b Eranga 16
S Watson st b Herath 5
M Wade c Kulasekara b Herath 11
M Clarke retired hurt* 57
M Hussey not out 31
P Siddle c P Jayawardene b Welegedera  4
M Starc lbw Welegedera 5
N Lyon b Herath 11
B Hilfenhaus lbw Herath 0
Extras: (lb-10, nb-4) 14
Total (all out*, 73.5 overs) 278
Fall of wickets: 1-132, 2-140, 3-153, 4-165, 5-181, 6-250, 7-256, 8-271
Bowling: Kulasekara 12-3-24-0 (nb-1), Welegedera 22-3-89-3 (nb-3), Dilshan, 2-0-2-0, Eranga 11-0-53-1, Mathews 5-2-5-0, Herath 21.5-2-95-5.
Sri Lanka second innings
D Karunaratne b Starc 30
T Dilshan c Wade b Watson 11
K Sangakkara not out 18
M Jayawardene not out 5
Extras: (b-1) 1
Total ( in 37 overs) 65 for two wickets
Fall of wickets: 1-26, 2-47
Bowling: Starc 10-4-21-1, Siddle 7-3-12-0, Watson 9-4-10-1, Lyon 10-3-16-0, Hussey 1-0-5-0.
Photograph: Matt King/Getty Images