'The idea of the Cricket All-Stars League was to give fans a chance to relive their memories and passion for the game.'
'If we start taking players who have not retired, then we are working against the ICC.'
In an exclusive chat with Harish Kotian/Rediff.com, Sachin Tendulkar discusses why he chose to launch the Cricket All-Stars League in baseball-crazy America, his friendship with Shane Warne and the aggressive attitude of India's up-and-coming young players.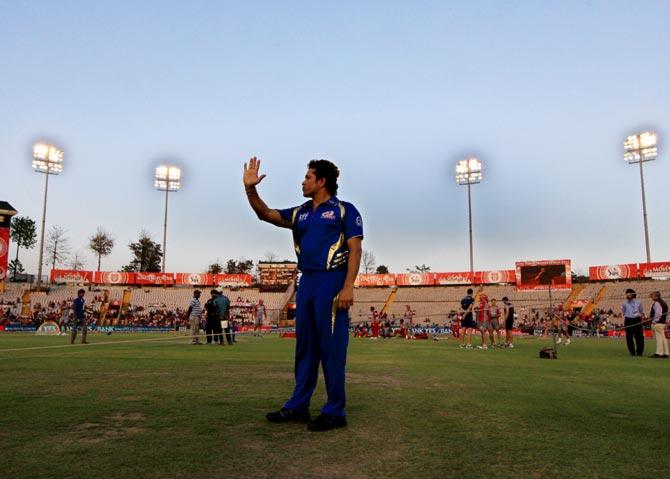 IMAGE: Mumbai Indians icon Sachin Tendulkar during IPL 7 at the Punjab Cricket Association stadium in Mohali. Photograph: BCCI
It's two years this month since he retired from cricket and the batting legend is plotting a comeback.
Before you jump to conclusions, Sachin Tendulkar is not eyeing a return to international cricket; he will only turn out in the Cricket All-Stars League later this year.
The All-Stars League is the brainchild of Tendulkar and his close friend, Australia spin great Shane Warne. The legends will captain the two teams in the Cricket All-Stars tournament, which kick offs on November 7 in New York, and includes matches in Houston and Los Angeles.
It will provide American cricket fans a rare chance to witness live greats of the game like Ricky Ponting, Brian Lara, Jacques Kallis, Daniel Vettori, Muttiah Muralitharan, Wasim Akram, Jonty Rhodes and Michael Vaughan among others.
All the three matches will be played on drop-in pitches at three baseball stadiums: CitiField (New York), Minute Maid Park (Houston) and the Dodgers Stadium (Los Angeles).
In an exclusive chat with Harish Kotian/Rediff.com, Tendulkar explains why he chose to launch the All-Stars League in baseball-crazy America and not in a cricket-playing nation.
He also offers advice on the newfound aggressive attitude of India's up-and-coming young players, saying: "Aggression should be reflected in your game; the way you play. Aggression is not about what you talk."
Why did you choose the US for the launch venue of the Cricket All-Stars League? Hardly any cricket is played in that country. Why not play in India, or the United Arab Emirates where the IPL was played last season and was a big success?
In the USA you have a lot of Asians who have followed cricket very closely and also played the game.
You have got the Caribbean islands from where a lot of people have come to the USA, then Australia, New Zealand. They don't get to see live cricket matches from inside stadiums; they have to keep themselves happy by watching on television or follow the scoreboard regularly on the Internet; they have to be happy with that.
The idea of the Cricket All-Stars League was to give fans a chance to relive their memories and passion for the game.
To globalise the game was also one of our main aims. You have a lot of clubs in the US playing cricket, but not at the highest level. The retired players can go there and generate that interest and get more people engaged with cricket.
When you and Shane Warne first proposed the idea, how was it received?
First, we discussed this with the ICC (International Cricket Council) and the ICC was excited. They are supporting us. All of us taking part have played under the ICC umbrella for more than 20 years and we want the ICC to be on board with us on this and globalise cricket as much as possible.
IMAGE: Sachin Tendulkar and Shane Warne at the Brabourne Stadium in Mumbai, September 29, 2004. Photograph: Hamish Blair/Getty Images
The most exciting proposition about this venture is that it brings together two of the best players cricket has seen. How did you and Warne get together for this venture?
Warne and I competed hard and we continue to do so. I don't think we will go there (in the All-Stars League) and just play for the sake of it.
All the players will give their best, go out there and compete hard and leave the spectators with some good memories and a reason to smile, because for so many years they have been waiting to see us live.
You and Warne were adversaries during your time. How did the rivalry turn into friendship? Both of you are completely different characters off the field...
We were rivals on the field and competed hard, as I said, but off the field we were good friends right from the first time I met him, which was way back in 1991.
From that time we have been good friends, but on the field he had to give his best for his country and the same with me.
That's the beauty of the sport and that is what people want to come and witness at the stadiums. We are prepared to battle hard and give that entertainment to people across America... give them a chance to relive their memories.
You and Warne had some thrilling battles during your playing days, but never exchanged a single word when out in the middle. Today, players are seeing having a verbal fight in the middle in the name of aggression. Do you support such kind of aggression?
Aggression has to be from within. It is not about how many words you exchange with each other. Sometimes the way you look at your opposition you convey a lot of things without even saying a word.
Aggression should be reflected in your game; the way you play. Aggression is not about what you talk and what you say. To me, aggression has to come from within.
Yes, the body language has to be positive, but it can be positive even without having said anything to the opposition.
IMAGE: A young cricket fan shows his support for Sachin Tendulkar during the 2011 ICC World Cup. Photograph: Matthew Lewis/Getty Images
Among some of your contemporaries, we have recently seen Sourav Ganguly getting into administration; Anil Kumble too is also involved in it, while Rahul Dravid is coaching India 'A.' A few years down the line, where will we see you? Into administration or coaching?
I don't know. Three years ago I didn't think I would be involved with the Cricket All-Stars League, so I don't know three years later where I will be.
The space that I am in, I am happy and enjoying it. I love where I am right now. It's all about living in that moment.
Will the All-Stars League involve only retired players? Will those who haven't retired, but have fallen out of favour as far as international cricket is concerned be included?
We are taking only those players who have announced their retirement. Warne and I were very clear that we don't want to take current players who are part of one format or whatever. We want players who have completely retired from international cricket.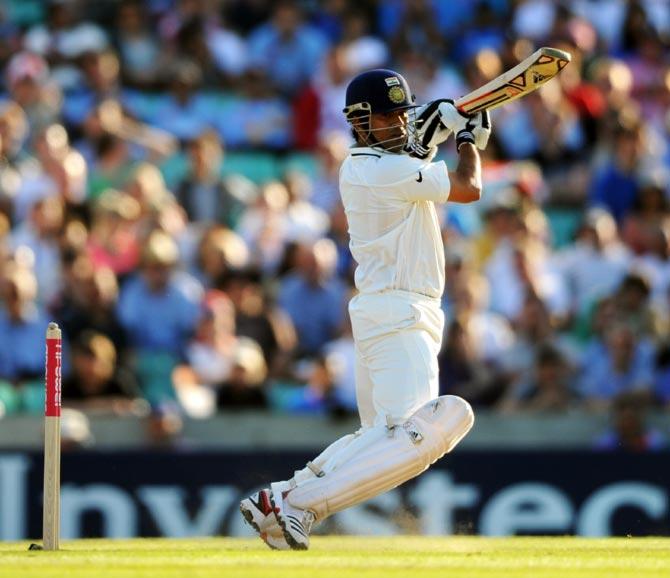 IMAGE: Sachin Tendulkar during the fourth Test against England at the Oval, August 21, 2011. Photograph: Gareth Copley/Getty Images
Do you have some selection criteria for the players you will be taking on board, like considering only those who have retired recently?
If you are retired from international cricket, then you are available to play in the All-Stars League.
The whole idea is to work with the ICC and not against the ICC. If we start taking players who have not retired then we are working against the ICC.
We want to work together and not against each other. We want to promote the game as ICC ambassadors and work together in promoting the game around the world.
Will you also look at taking the All-Stars League to other countries?
Yes, definitely. We have been approached by quite a few countries, but I wouldn't like to name them right now. I would like to say that we have been approached by other countries and there is a lot of excitement.
The interest in the All-Stars League is really high. We will definitely go to other countries and try to generate interest in cricket.