'What we are doing here is future-proofing country cricket. I don't think it's so much a gamble, I think it's about looking into the future and saying what do we want our business and our game to look like.'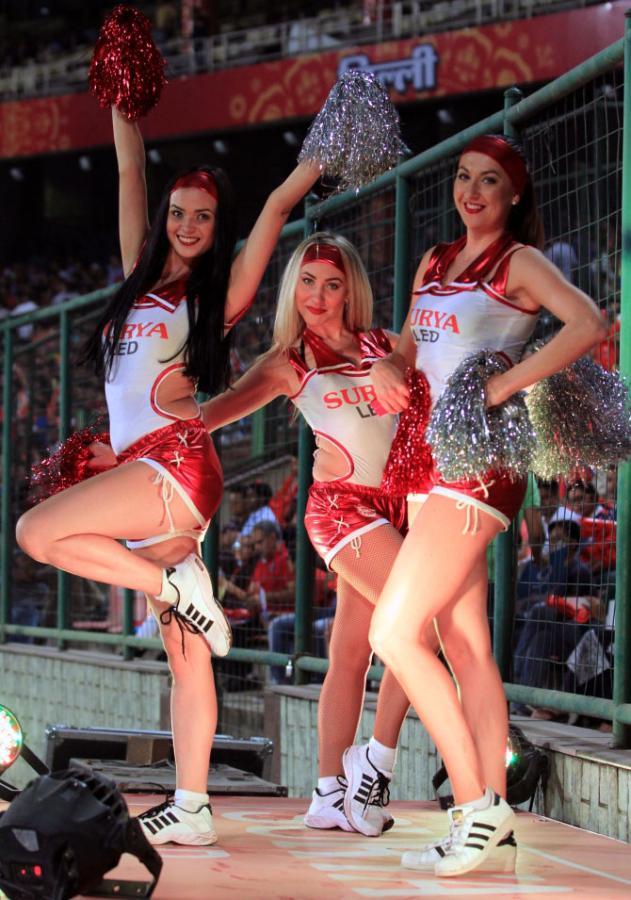 IMAGE: Cheerleaders perform during the IPL. Photograph: BCCI
A new city-based Twenty20 tournament for English cricket intended to rival the Indian Premier League (IPL) and Australia's Big Bash moved a step closer on Monday following a key presentation by the sport's governing body.

In a break with 130 years of tradition, none of England's existing 18 counties are due to feature in the new event. Instead eight new teams, drawn from cities, would compete from 2020.

The proposed change would be one of the most sweeping ever introduced to the English game's structure, with the details set out for the counties by the England and Wales Cricket Board (ECB) in London on Monday.

"We have to think differently if we are going to be successful in attracting family audiences to our competitions," said ECB chief executive Tom Harrison. "This is about growth and creating something dramatically different for English cricket."

The counties are being asked to agree a change to the ECB constitution, which currently says each competition must be open to them all. In return each county would receive a financial inducement of 1.3 million pounds ($1.63 million) annually for five years.

On Tuesday a full ECB board meeting will be asked to ratify the decision.

The ECB urged counties and supporters not to regard the change as a threat.

"What we are doing here is future-proofing country cricket," said Harrison. "I don't think it's so much a gamble, I think it's about looking into the future and saying what do we want our business and our game to look like."

PLAYERS DRAFT

Eight as yet unnamed teams will play 36 games over a 38-day summer window in the season, with four home games per team. Eight of the games are planned for terrestrial television.

The tournament would feature a players draft, with each team having a squad of 15 that can include three overseas players.

The new franchises will be the subject of fierce dispute among counties each hoping to host lucrative games at their grounds. Potential new teams ventured in the British media include North London, South London, West, Red Rose, White Rose, Birmingham, Trent Bridge and South.

Scheduling also remains problematic in an already packed English season. The tournament may clash with Tests, meaning established England players may not feature.

"We'd like to find room to breath but it's difficult and ultimately we're a market that's hugely reliant on international cricket. A huge part of that diet is Test cricket," said Harrison, who added that the new tournament would not affect the existing T20 Blast competition among the counties but could "absolutely" rival the IPL.

However, former England captain Michael Vaughan said the new tournament will bring about a cultural shift in the game.

"In ten years' time cricket in this country could be very different," he wrote on the Daily Telegraph website (www.telegraph.co.uk).

"No longer will international cricket be king. We have seen this already happen in Australia. This winter the Big Bash eclipsed, in terms of popularity and exposure, Australia's home series with Pakistan."