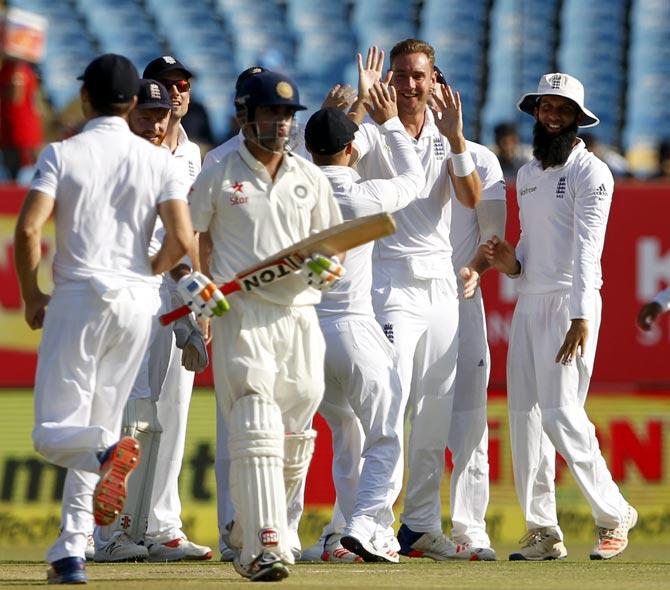 IMAGE: England players celebrate the dismissal of Gautam Gambhir. Photograph: BCCI.
England coach Trevor Bayliss has dubbed his team's performance in the drawn first Test against India as "the best since he had been with the Alastair Cook-led team".
Chasing an improbable target of 310 runs, Indian skipper Virat Kohli and all-rounder Ravindra Jadeja hung in as they remained unbeaten on 49 and 32 respectively in a tense final session to deny England victory at the Saurashtra Cricket Stadium on Sunday.
Despite the outcome of the opening Test of the five-match series, Bayliss was impressed by the commitment his side had shown in gruelling conditions as well as on surfaces where England players generally struggle.
"Win, lose or draw, I thought effort-wise that's probably the best performance we've had since I've been with the team. The way the guys played in this Test should give us plenty of confidence.
"Our batters played well against their spinners, and our spinners and seamers all bowled well. We acquitted ourselves very well," Bayliss, who was appointed after Ashes series 2015, was quoted as saying by ESPNcricinfo.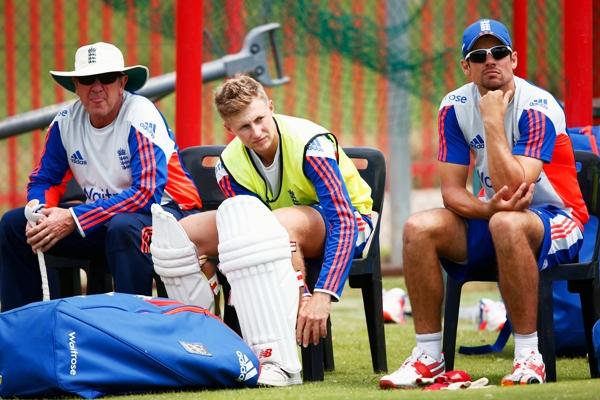 IMAGE: Coach Trevor Bayliss of England with Joe Root and captain Alastair Cook during a practice session. Photograph: Julian Finney/Getty Images.
Quite impressed by England's improvement since their defeat against Bangladesh in Dhaka last month, the 53-year-old called on his side to maintain the consistency in order to seal the series against the top-ranked Test side.
"We're under no illusions that these next four Tests could be even tougher than this one. But if we put in more performances like that, we'll probably be playing consistent cricket - and that's what we're after - and we'll have a chance of winning more games.
"So we've got to continue putting in that effort. But if we do, we've a chance of winning," said Bayliss, whose period in charge as coach has seen notable victories over Australia at Edgbaston and Trent Bridge, apart from the impressive win over South Africa in Johannesburg.
Skipper Cook (130) notched up his 30th Test hundred besides sharing a strong 180-run stand with his new opening partner Haseeb Hameed (82) to put their side in a strong position before declaring their second innings at 260 for three.
Likening the 19-year-old debutant with Sri Lankan batting great Kumar Sangakkara, Bayliss said Hameed exactly knows how his game works.
"For one so young, 19, his composure is very good. He knows how his game works - something that players years in advance of him would like to have - and without wanting to put too much pressure on him, the signs are good," he said.
"He's one of those batters, a little bit like a Sangakkara, who just loves batting..It was obviously a very good start. He's been with the squad for about six weeks, but it feels like he's been here for two or three years - he's got that type of a personality" said Bayliss.
The England coach also hinted that they might well stick to the same Playing XI for the second Test against the Kohli-led side in Visakhapatnam, which starts from November 17.