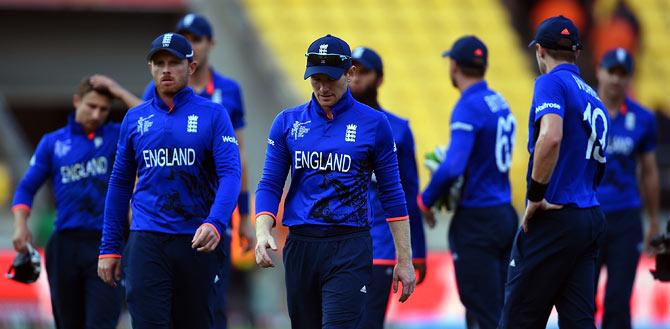 England captain Eoin Morgan leads his team off at the end of the ICC World Cup match against Sri Lanka. Photograph: Shaun Botterill/Getty Images
Eoin Morgan will be glad to see the back of Wellington Regional Stadium after England were humiliated there for the second time in less than 10 days on Sunday.
- PHOTOS: Sri Lanka hand England a thrashing

Morgan's side had posted a credible 309 for six in their ICC World Cup Pool A clash against Sri Lanka but could not bowl well enough or take their chances to defend the total.

Lahiru Thirimanne scored an unbeaten 139 while Kumar Sangakkara was 117 not out as Sri Lanka produced the highest successful run chase on the ground known as the 'Cake Tin'.

Sri Lanka finished on 312-1 in 47.2 overs, giving them a nine-wicket victory, nine days after New Zealand hammered England by eight wickets at the same venue.

Statistics have shown that England's score was more than 30 runs 'above par' for the ground, but their bowlers could not settle on a length, nor get any swing or seam from the same pitch that New Zealand's Tim Southee had taken 7-33 on February 20.

England also dropped several catches and did not attack half chances in the outfield despite having more than 300 runs in the bank and able to be a bit more aggressive in their fielding.

"We bowled a lot of bad balls," Morgan told reporters. "We created a couple of chances which went down, which is always disappointing.

"When we bowl well, we put sides under pressure and create opportunities. Today we didn't."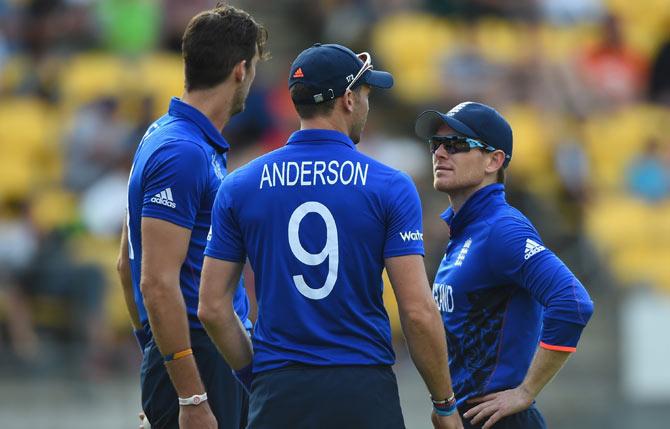 England captain Eoin Morgan (right) speaks to his fast bowlers James Anderson (centre) and Steve Finn. Photograph: Shaun Botterill/Getty Images
The loss has left England's quarter-final chances hanging in the balance and reliant on them beating Bangladesh in Adelaide on March 9. A wash-out would end their hopes.

Morgan's side have two points from four games, with only a victory over Scotland to account for their tournament so far.

Bangladesh have three points from three games and next face Scotland at Saxton Oval in Nelson on Thursday.

The best England could hope for is fourth in Pool A after having lost to New Zealand and Australia as well.

"It's not even a thought at the moment," he said.

"Two games to win to get us into the quarter-finals."

Morgan would not comment on any potential changes, though Gary Ballance has scored just 36 runs in four innings, while James Anderson has taken two wickets at an average of 91 and has an economy rate of 6.27.

"At the moment, I haven't really thought of that," Morgan added when asked about the possibility of changes.

"We'll have a couple of days in Adelaide where we'll do nothing and then wait until the dust settles a bit.

"We'll review the game with the backroom staff and see how we go forward from there."