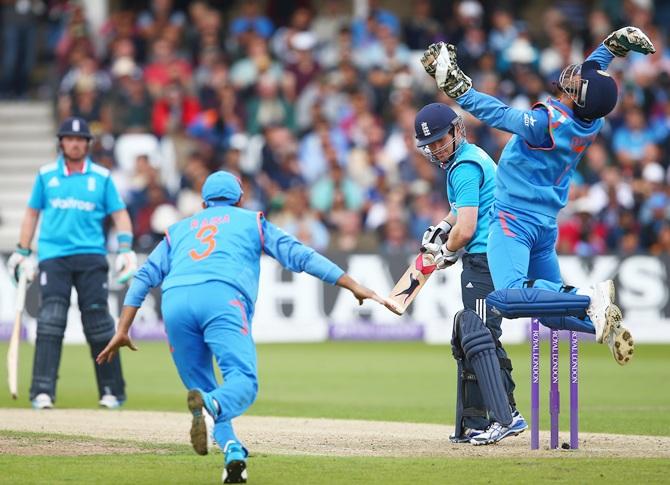 Mahendra Singh Dhoni of India celebrates taking a catch to dismiss Eoin Morgan of England off the bowling of Ravichandran Ashwin during the third Royal London ODI against England at Trent Bridge. Photograph: Michael Steele/Getty Images
Surprised by the amount of turn his spinners managed to extract from the pitch in the third ODI win against England, Indian captain Mahendra Singh Dhoni said they will have to work on delivering similar performances on tracks which may not be as helpful.
- Nottingham ODI: India leave England in a spin after going 2-0 up
- Kohli-Stokes involved in verbal spat in 3rd ODI
"There are a few areas where there is still a bit of concern. We still need to work on bowling, especially on wickets where there is no turn and spinners are not that much effective. If you don't take wickets in the middle overs and it really puts a lot of pressure on the bowlers," Dhoni said after India took a 2-0 lead in the five-match series here.
R Ashwin took 3-39 while Ravindra Jadeja, Suresh Raina and Ambati Rayudu took a wicket each to help India beat England by six wickets after the hosts collapsed from 82/0 to 227 all out.
"I was surprised by how much it turned. That really brought out spinners into the game," said Dhoni.
'Raina's spell was crucial'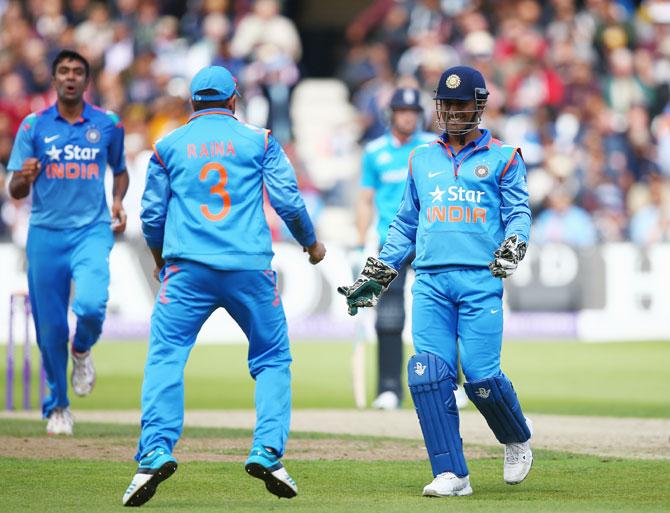 Mahendra Singh Dhoni and Suresh Raina of India celebrate the dismissal of England's Ben Stokes, off Ravichandran Ashwin (in the background) at Trent Bridge. Photograph: Michael Steele/Getty Images
"I felt Suresh Raina's spell was crucial because Mohit Sharma got injured and we were not really sure whether he would come back and bowl the seven overs he had to bowl. So I had to get those seven overs from the part-timers. I am happy that Raina and Ambati Rayudu contributed more than the seven overs and there was less pressure on me."
'We have to judge people under different scenarios'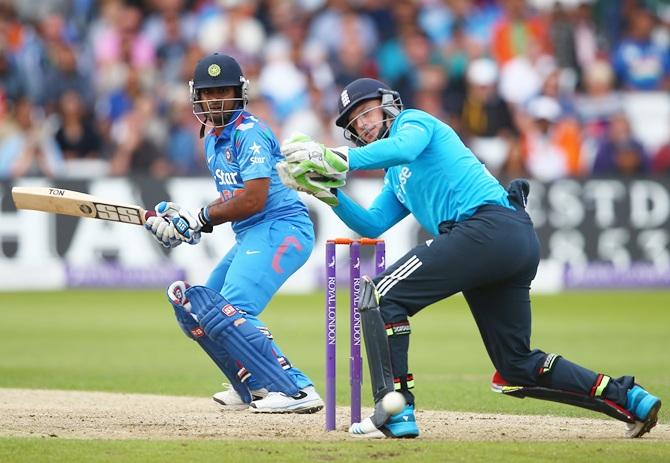 Ambati Rayudu of India looks back as he plays a shot fine past wicketkeeper Jos Buttler of England. Photograph: Michael Steele/Getty Images
India chased down the 228-run target with seven overs to spare. It was a good day in the field for Rayudu who not only picked his maiden ODI wicket when Dhoni stumped Alastair Cook but also scored 64 not at No 4, in place of Ajinkya Rahane who opened the innings after Rohit Sharma's broken finger.
"We have to judge people under different scenarios and under pressure what they do, if they are supposed to play freely and how they do play," said Dhoni, talking about the different situations facing his batsmen.
'Fantastic performance by the whole team'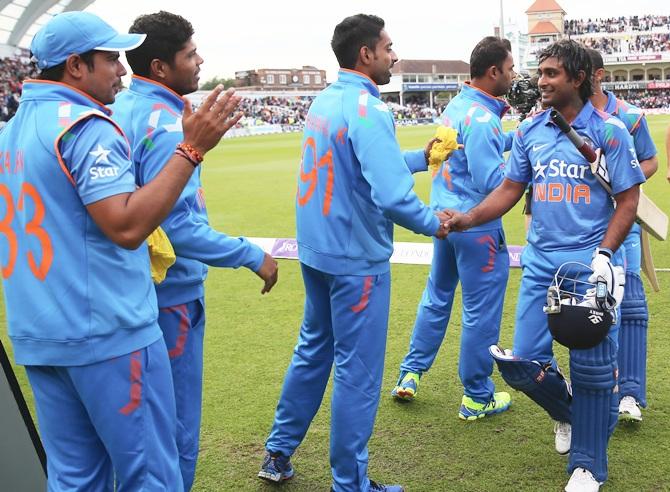 Ambati Rayudu, right, of India is congratulated by team mates. Photograph: Michael Steele/Getty Images
"Overall it looks like a good team. If you look at the batting order itself, it is a fantastic one. If Rohit Sharma gets fit at the top of the order or if he is batting in the middle it is looking good."
India cannot lose this series now after the first ODI in Bristol was washed away. There are two more games remaining in the series, at Birmingham on September 2 and then at Leeds on September 5.
"It was a fantastic performance by the whole team. Apart from bowling, the fielding was brilliant too. Ian Bell's wicket at that point of time was very crucial and Raina's catch in the slips was fantastic. Those are the things really help you lift as a team," said Dhoni.