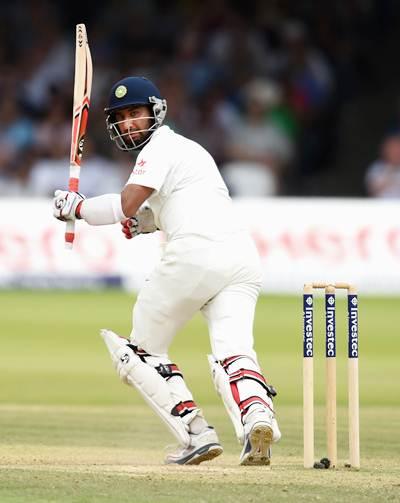 There is a buzz in the air at the 3aaa County Ground on Grandstand Road, in Derby.
The immensely-talented Cheteshwar Pujara, Derbyshire County Cricket Club's new overseas pro, is all set to join them this week for the remainder of the English County Championship.
"We've been focused on delivering a long-term legacy from the visit of the Indian tourist side to Derby in July, including the creation of our Cricket Derbyshire India Club. We hope the opportunity to see Pujara play county cricket for Derbyshire will inspire cricket followers across the city and wider county and open up the club to a new generation of fans," said Derbyshire's chief executive, Simon Storey.
The Indian batsman, who signed a contract with Derbyshire in August, but could not reach there because of a slight delay in obtaining a British work visa, will be accompanied by his father and coach, Arvind, who wants to see from "close quarters" what exactly went wrong for his illustrious son in the recent Test series in England, which he believes to be the home of cricket.
Having missed the match against Worcestershire, on August 31, Pujara, who did well in the first two Tests of the just-concluded series in England but performed like a shadow of himself in the next three, is hoping to leave his imprint with some impressive innings in Derbyshire's last three matches against Glamorgan, Surrey and Leicestershire.
In July, he offered glimpses of his class at Derby, when he scored a masterly 81 for India against Derbyshire. He must surely be keen to show the full range of his batsmanship to the county's large number of supporters now. Expectations of him are already high, considering that he has replaced none other than the obdurate and prolific Shivnarine Chanderpaul as the club's overseas pro.
"Cheteshwar is very enthusiastic about playing for Derbyshire," said Arvind. "Though there aren't too many matches to be played, I know how determined he is to serve Derbyshire to the best of his ability."
A stint in county cricket should do Pujara's confidence a world of good, particularly after the dismal Test series, against the rampaging James Anderson, Stuart Broad and company. A couple of good performances for Derbyshire should help him erase bad memories and look ahead with a new confidence and positive frame of mind as India is scheduled to host the West Indies in October and tour Down Under for four Tests later this year.
No one at the 3aaa County Ground is in any doubt about the batsman's calibre and capability.
"We're an ambitious team and have an exciting group of players who are developing fast," said Derbyshire's elite performance director, Graeme Welch.
"Pujara joining us at this stage of the season is a real boost for the lads, and the remaining championship matches we've ahead of us will give him exactly the experience he is looking for."
Welch added that with Chanderpaul back in the West Indies for national duty and Australian star Marcus North focusing on the Club's one-day campaign, Pujara will bring an "added dimension" to the side as Derbyshire are looking to finish their championship season "strongly".
Earlier report: British visa delay keeps Pujara's County debut on hold
Image: Cheteshwar Pujara
Photograph: Getty Images