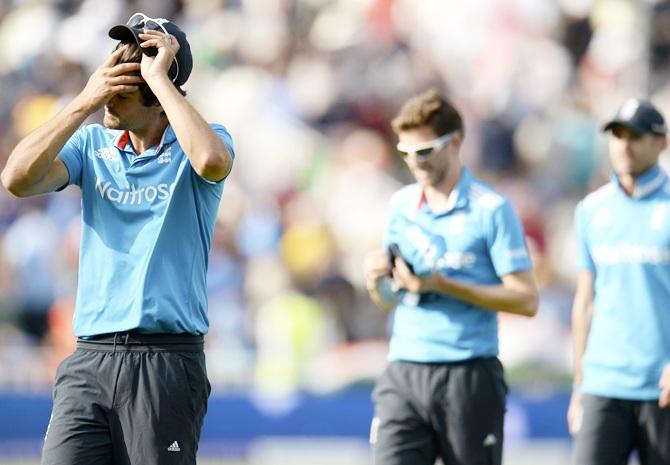 England's captain Alastair Cook, left, leads his team off the field after they were defeated in the fourth ODI against India at Edgbaston. Photograph: Philip Brown/Reuters
Under-fire Alastair Cook has been given no assurances about his future as England's One-day International (ODI) captain but the stout opener is determined to lead the team in next year's World Cup in Australia and New Zealand.
'Cook is a stubborn man but the tough call has to be made'
Strauss backs captain Cook to come good
The Essex opener answered many critics during England's 3-1 Test series victory against India but questions remain as to whether Cook is the right man to lead the team in the limted-overs format.
Cook took over the ODI captaincy in 2011 leading England to the top of the One-day rankings the next year but has since suffered loss in their last four ODI series on home soil.
Former captain Michael Vaughan and ex-team mate Graeme Swann have called for Cook to step aside and the 29-year-old said he has been offered no guarantees.
"No I haven't," Cook told a press conference after England registered a much-needed 41-run victory in the final One-dayer.
The hosts lost the five-match series 3-1 as India, the World's No 1 ranked Twenty20 and ODI team, humbled England's beleaguered limited-overs side.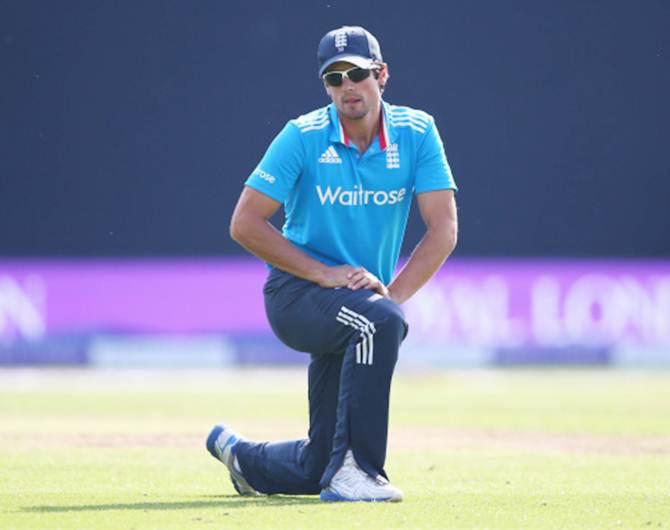 England captain Alastair Cook looks on during the fourth One-Day International at Edgbaston. Michael Steele/Getty Images
"While I still want to do the job and still believe I can do it then I will carry on doing it," Cook added. "If they (the selectors) don't want to me to do it I'd take it on the chin."
England tour Sri Lanka in November and December before a tri-series in Australia ahead of the World Cup.
"We can concentrate on improving. Last time we had a focus like this we got to the Champions Trophy final (in 2013).
"We've got an extended period of working on our games in One-day cricket which we have never had before.
"It's exciting that we've got this opportunity to really take big steps forward in One-day cricket and hopefully do something special at the end of it."