Out-of-favour India off-spinner and Punjab skipper Harbhajan Singh on Saturday said he is determined to perform in the upcoming Ranji Trophy quarterfinal clash against Jharkhand and stage a comeback to the national side for the One-day series against England.
Also Read
-Dhoni should give up the Twenty20 format: Abbas
-'Indian batsmen are terribly out of form since 2011 WC'
"I'll put my best in the quarter final match against Jharkhand and try to return to the Indian team," the 32-year-old cricketer said on the sidelines of his team's practice session at Keenan stadium in Jamshedpur.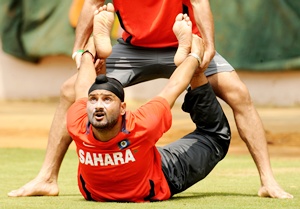 Harbhajan, however, refused to comment on the recent performances of the Indian team in the ongoing ODI series against Pakistan.
Asked about the possibility of a come back to the Indian team for the forthcoming limited-over series against England, to be decided on Sunday, Singh said his responsibility would be to perform in the Ranji match against Jharkhand.
"I have come here to play cricket and my responsibility is to perform to my best," he said.
"I am looking forward to tomorrow's match against Jharkhand, which is an important match for either of the team to move forward," he added.
"We have been performing well and reached this stage. We'll have to keep the momentum and did not want to take the host team lightly," he said.
Asked about the home team, Singh said he knew some of the players such as in-form left-handed batsmen Saurabh Tiwary and Ishank Jaggi.
"Tiwary belonged to Mumbai Indian team in the IPL, while I played against Jaggi. They are good cricketers," he said.
Photograph: Philip Brown/Reuters