England all-rounder Samit Patel is confident that the likes of skipper Alastair Cook, Kevin Pietersen and Ian Bell have the ability to hit big hundreds and also save the first Test against India at Moreta.
"We have two world-class batsmen at the crease and (Ian) Bell is still to come," said Patel, at the post-match interaction at the end of the second day's play.
Cook and Pietersen were at the crease at the end of Day 2 on a track where the ball was turning off the rough and keeping either low or jumping at times.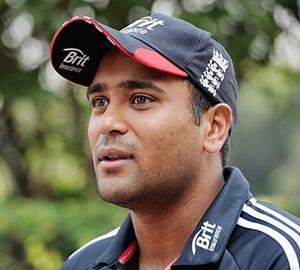 "That happens, that's cricket. Both of them (Cook and Pieternsen) can go and get big hundreds," Patel, who himself has been in good form with the willow, exuded confidence.
The left-arm spinner feels that since the ball is new, it is helping Ravichandran Ashwin and Pragyan Ojha to extract more turn off the pitch.
- 6 Tests, 1 ton, 1 double: Pujara graph
- Youngest Indians to score a double ton
"I think the ball is hard. It spins when it is harder. When it gets soft, we can get in. Cookie and KP should bat long."
The all-rounder praised Cheteshwar Pujara, Virender Sehwag and Yuvraj Singh for their impressive knocks.
"Sometimes you have to give credit to the batsmen. Sehwag played an outstanding knock yesterday. Pujara carried on from yesterday and today, Yuvraj played well too. They are good players of spin bowling and we know that."
Asked about his team's strategy on Day 3, Patel replied, "We know what we can do tomorrow. On this wicket, you can wear teams down and that's what they did. It's also something we expected. We were prepared."     When someone pointed out that he (Patel) is a better player of spin bowling than some of his teammates, he sought to play it down and rather focussed on what will be Pietersen's role on Saturday.
"I don't have a big advantage playing spin but KP will be different tomorrow," he said.
He feels that if the batsmen are positive against turning deliveries, they would do better.
"I don't think you can be too defensive. You have to let the bowler know that you are there not just to survive."
He also defended the move to send James Anderson as night-watchman when four overs were still left.
"It's not a defensive move. Sometimes they survive, sometimes they don't," he said.
Patel did not find anything wrong with the track which appeared bone-dry from the first ball.
"It's a good Test match wicket. You have to accept the fact that deterioration of the wicket day by day happens. I think lower and slower is the way it will be over the next three days. So, we have to play good cricket," he remarked.