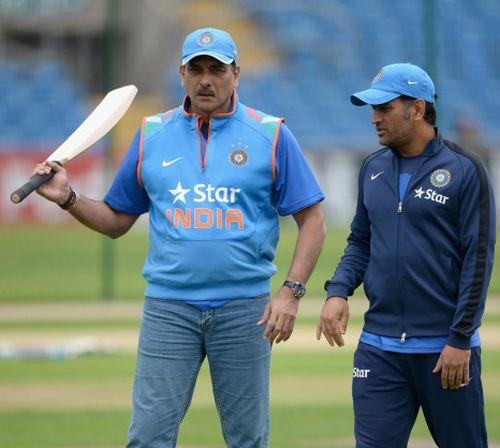 Ravi Shastri with MS Dhoni. Photograph: Gareth Copley/Getty Images
Ajinkya Rahane joined the bandwagon of Indian players who have attributed Team Director Ravi Shastri's technical inputs for bringing about a turnaround in team's fortunes in the ongoing ODI series after the dismal show in the Test matches in England.
Suresh Raina, Shikhar Dhawan had already paid glowing tributes to the former India all-rounder for his contribution in helping the struggling team; now Rahane is the latest batsman to say how Shastri's tips helped him in converting a good start into a hundred in the last match.
"It hurt the team's chances that I was not converting my starts. Ravi Shastri was very helpful during this phase. He asked me to play the way I was playing and just asked for a little extra focus between 40 and 50.
"He said, "Once you cross 50, your instinct will take over," Rahane said on Thursday.
'It hurt that I was not converting my starts'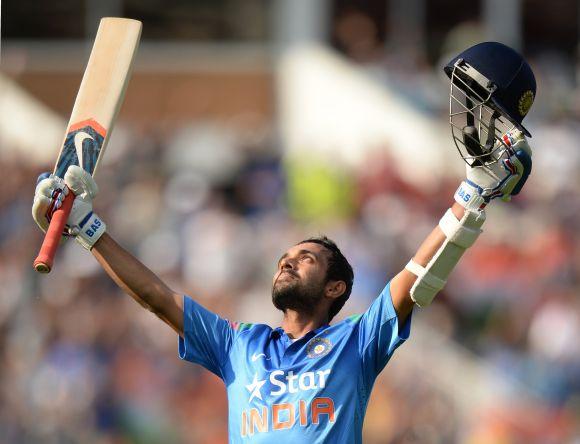 Ajinkya Rahane. Photograph: Philip Brown/Reuters
"My focus in the third ODI was to focus that bit harder once I crossed 40, at least for those 10 next runs. After that I backed my instincts," he added, crediting the team's newly-appointed Director of Cricket.
"I was batting well in the first two matches (at Cardiff and Nottingham), but got out on 45 and 41. That hurt me a lot, because if you are batting so well in good conditions against this attack, if you get a big score it is good for my confidence and team morale," Rahane said.
Talking about his maiden ODI hundred, scored at Edgbaston, Rahane said, "It was really special. After two 40s in the first two ODIs and the way I got out, I was really hurt. I couldn't sleep after the Cardiff game because of the way I got out stumped. It was a really silly mistake of mine. I was really determined in the third ODI. Once I crossed the next 10 runs after 40, my natural game took over," the soft-spoken Mumbaikar said.

'Once I crossed 50, I backed my natural game'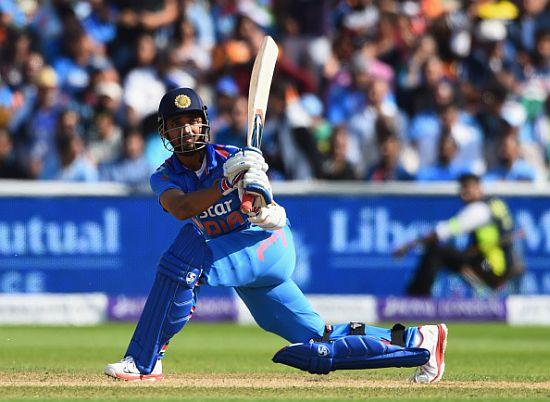 Ajinkya Rahane. Photograph: Shaun Botterill/Getty Images
Rahane said he was confident that a substantial knock was just round the corner.
"I knew deep inside that a big innings was around the corner. When you are batting well, you don't think too much. All I had to think about was how to focus that bit extra between 40 and 50, and how I prepare for that phase before the match. It was just a mind game.
"As I said, Ravi told me the next 10 runs after I reach will be important. When I reached the 40s, my whole aim was to concentrate harder. Once I crossed 50, I backed my natural game," he added.
The advice seemed to have worked because Rahane not only progressed to a high score but also helped a team-mate out.
'I backed my game, and that allowed Shikhar some time to settle in'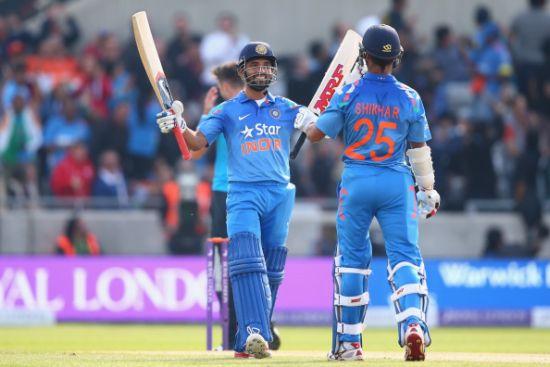 Ajinkya Rahane with Shikhar Dhawan. Photograph: Michael Steele/Getty Images
His opening partner, Shikhar Dhawan, reeling under a string of low scores, was able to concentrate that much harder on his game while Rahane upped the scoring ante at the other end.
"When we went out to bat, the ball seamed around for the first five-six overs. I told Shikhar, I will remain positive, and if I see a ball I can hit I will go after it. In that over itself, I hit four boundaries, and the momentum switched towards us.
"Then he (Shikhar) asked me to continue playing that way. I backed my game, and that allowed Shikhar some time to settle in. Once he got in, it was a joy to watch him bat from the non-striker's end," said the centurion about their 183-run opening stand.
It gives an added option to skipper Mahendra SIngh Dhoni in the build-up to the 2015 ODI World Cup. Rahane had batted at number four in the Cardiff ODI and is the designated middle-order batsman for some time now.
Change of mindset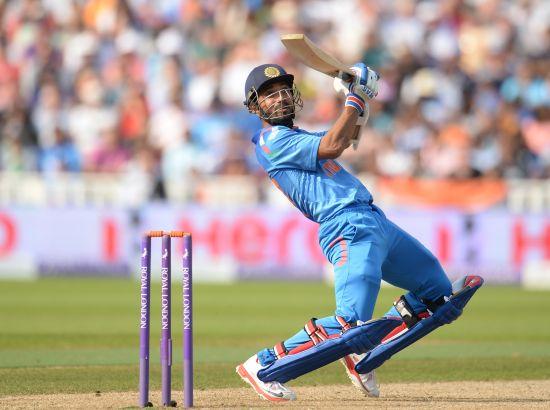 AAjinkya Rahane. Photograph: Philip Brown/Reuters
But after Rohit Sharma was ruled out of the remainder of the series with a broken finger, he was asked to open and he did so with some joy.
"The captain asked me if I would open and I responded in the positive. I was ready for the challenge. When your captain shows that confidence in you, you also must be prepared mentally to take that challenge on," Rahane said.
"Technique doesn't change. You just have to change your mindset moving up from number four to open the innings. The way you handle the new ball, how you can dominate the new ball is important. When we spoke during that partnership, all we discussed was we need to dominate the bowlers. We can't let them bowl where they want to," he added.
Asked if he will continue to open when Rohit returns to the team eventually, he replied, "I haven't thought of it yet. We always want to play for each other. We want to enjoy each other's performance. A good team is one that plays for each other."