Inconsistency might have cost Suresh Raina a place in the Test squad, but coach Dipak Sharma feels that his prodigy will soon overcome the "hurdle" and return with a bang.
"Raina is definitely a very talented cricketer but inconsistency in his performance is the major hurdle in his progress," Sharma, who taught Raina his first lessons of the game, said.
The coach felt that for securing a place in the Tests, the Uttar Pradesh skipper would have to consistently score big.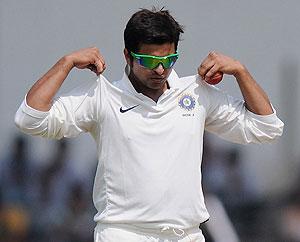 "This could be the main reason as to why he has not been able to win over the trust of national selectors... he needs to score big in the Ranji Trophy matches," Sharma said.
Raina, who has scored 768 runs in 17 Test matches with an average of 28.44 runs, failed to find a place in the team for the first two Tests against England beginning November 15.
One time praised by Wisden for his skills, Raina has not been able to do justice to his talent at the Test level.
"It is not because of any problem with his technique, he rather requires an appropriate plan," Sharma said.
Starting his Test career with a hundred against Sri Lanka, Raina showed a lot of promise, people started to expect a lot from the left-hander and it certainly had an impact on his performance, Sharma said.
"In the present times it is essential for a cricketer to mould himself according to the changing formats of the game, be it Test, ODI or T20 and therefore performing consistently becomes a major challenge," he said.
Sharma though being unhappy at Raina's exclusion said he is confident that the 25-year-old would soon make a comeback in the longer format of the game.
Photograph: Pal Pillai/Getty Images