Mahendra Singh Dhoni praised his spin trump card Ravichandra Ashwin for the variations in his bowling and said the youngster should use his off-breaks as his stock delivery.
"Ashwin has got variations. He can bowl almost each and every delivery, googly, off-spin, leg-spin, carrom ball. The majority of his deliveries are still off-spin. I think it's important for him to concentrate on his stock delivery. I think he has done that really well," said Dhoni, when asked to compare Ashwin with unorthodox Pakistan bowler Saeed Ajmal.
- Warne's five-point plan to help England win in India
- India hoping to spin England out of Test series
"They are different bowlers. It's unfair to compare them. Ajmal has got a brilliant 'doosra' and generates a lot of pace when it goes away from a right hander. He's quite special," said Dhoni, at the media conference ahead of the first Test against England in Ahmedabad, starting Thursday.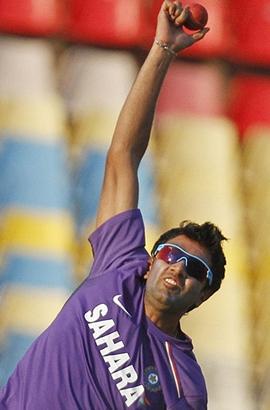 While the 26-year-old Ashwin has grabbed 49 wickets in eight Tests, including 40 at home in five games, the 35-year-old Ajmal has impressive figures of 122 wickets in 23 Tests, including 24 in three Tests in the United Arab Emirates nine months ago.
Dhoni does not see any threat to the future of Test cricket in India, though he conceded that the crowd turn-out at stadia has dwindled over the years.
"It's a very competitive world out there. On week days it's very difficult for a large amount of people to come out and see because it's not easy to work for the private sector and seek a holiday to see India play. That's also a big factor," Dhoni said.
"There was a period when stadiums were houseful for Tests. Still a decent amount of people turn-out for Test matches. We have seen that in the smaller cities. We got more crowds than in some of the bigger cities. I don't think it's really alarming. There is good future for Test cricket.
"I feel it's very important to get children into Test because it's a world of fast food where people don't want to wait for one hour to get orders delivered. They are quite happy to have a burger or something in 20 minutes," he added.
© Copyright 2022 PTI. All rights reserved. Republication or redistribution of PTI content, including by framing or similar means, is expressly prohibited without the prior written consent.