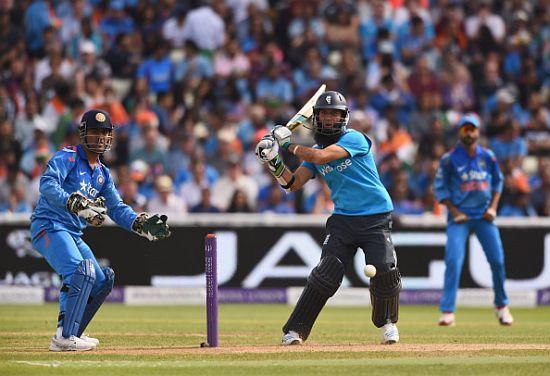 Moeen Ali. Photograph: Shaun Botterill/Getty Images
England's unlikely bowling hero in the Tests, all-rounder Moeen Ali also made an impact with the bat at Edgbaston while playing his first ODI of the series and has admitted that he learnt a lot by watching Indian batsmen from the sidelines.
"Sitting on the sidelines for the first two games, watching the way Indians bat, watching someone like Suresh Raina in the first game, they were in trouble and he came out and played the way he did. You can learn a lot from the way they approach it, with no fear and just back themselves to play their shots.
"If there is a risk, they just take it. Sometimes it doesn't come off but as a team if we can all do that and execute the plan like I say then we will be fine," Ali said on the eve of the final ODI match.
'To win the game for England is important'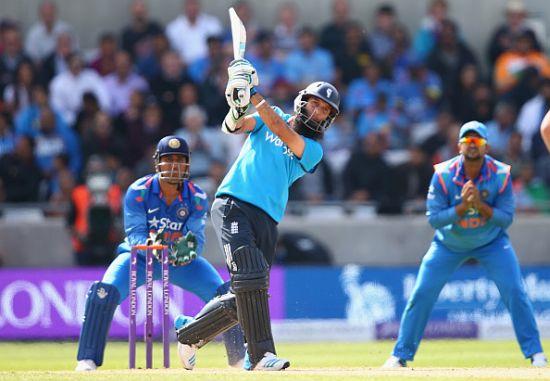 Moeen Ali hits one over the top. Photograph: Michael Steele/Getty Images
England lost the fourth ODI by 9 wickets as India took an unbeatable 3-0 lead in the five-match series. Ali though, who struck a 50-ball 67 to help England gain some respect while batting first in Birmingham, still believes that the team has the hunger to win.
"There's still a lot to play for. A lot of the players are still playing for places in Sri Lanka. To win the game for England is important. He's (Alastair Cook) trying to get us to stick together, work hard and execute the plan," said Ali.
Ali's knock, laced with 4 fours and 3 sixes, was England's first fifty in the ongoing ODI series and the left-handed batsman is just happy to contribute for the team.
"I was just going and trying to get a score for the team, play how I play and mot fear anything or anyone, just enjoy batting, put bat to ball, try and be different, go out and accelerate a little bit and thankfully everything came off that day," he said.
"As a batsman you want to take the game to them. There is no point in playing the same way and getting out the same way all the time. I'd rather get caught on the boundary or stumped trying to do something than try and knock it around all the time," he added.
'Cook has been trying to get everyone playing well'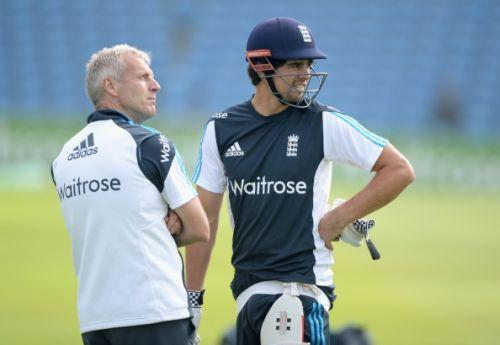 Alastair Cook. Photograph: Gareth Copley/Getty Images
Despite calls for Cook's ouster as ODI captain getting louder, Ali insists that the left-handed opener has the backing of team members to lead them in the 50-over version.
Cook answered back his critics with England's 3-1 Test series win against India but former players and pundits are back at the captain after the hosts' disastrous showing in the ODIs.
"It has been the same as it was in the Test series. He has been exactly the same in front of the lads. Obviously he has been trying to get everyone playing well and desperate to do well himself as well and I am sure hopefully he can do that we can do it as a team for him," Ali said while defending his captain.
'We are just desperate to do well'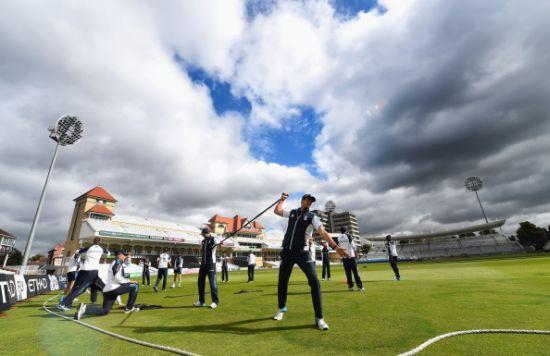 England players during a warm up session. Photograph: Laurence Griffiths/Getty Images
After three straight losses post the first washed-out game at Bristol, England will surely be looking for a win before the one-off T20.
"We are just desperate to do well," said Ali ahead of the game. "Every individual wants to turn up and execute their plans. Hopefully if we can do that we will see a different result."
This series loss has come after a string of other ODI defeats against Australia and Sri Lanka recently, and has really asked the question, whether England care about Test cricket only. Ali though thinks otherwise.
"Definitely we do. This thought doesn't even cross our minds. There is obviously a change of personnel in the changing rooms. I would be surprised if anyone doesn't care about one-day cricket or Twenty20 cricket as much as Test cricket," Ali said.