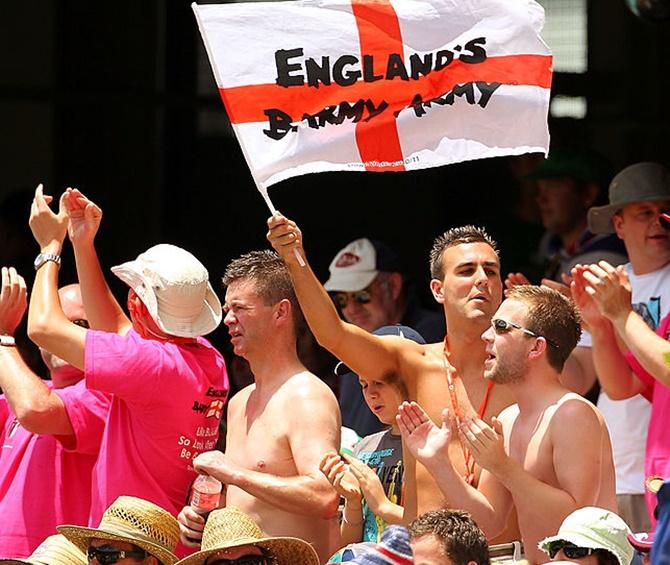 IMAGE: The 'Barmy Army'. Photograph: Cameron Spencer/Getty Images.
The Barmy Army, an organisation aimed at helping cricket fans watch and support the England cricket team play all over the world, has joined limited-overs skipper Eoin Morgan in pulling out of the upcoming tour to Bangladesh due to prevailing security concerns.
The development came two days after Morgan and opener Alex Hales decided to withdraw from the Bangladesh series in the wake of safety concerns in the country.
While announcing the news, the supporters' group said that they would not be travelling to the Asian nation as they have to pay for private security teams to protect them instead of being covered by the England and Wales Cricket Board (ECB) or Bangladesh Cricket Board (BCB).
"Behind the scenes we have been liaising with the ECB and the Bangladesh Cricket Board (BCB) and have now received advice from the latter. We have been supplied with a list of hotels in Dhaka and Chittagong that will receive protection from the Bangladesh Police and been told that England supporters will be afforded their own segregated area within the stadium," the Barmy Army was quoted as saying by ESPNcricinfo.
"It is a matter of great regret that we feel unable to endorse travel to Bangladesh. Those of us lucky enough to have visited this country on previous tours have lasting and fond memories of a warm welcome, friendly locals and wonderful food," the group added.
The security concerns have sharply risen in the Asian country since last month's terror attack in Dhaka, which killed 20 hostages, including nine Italians.
England's players were earlier given a choice to decide whether they want to tour Bangladesh later this year in the wake of the security concerns despite the England and Wales Cricket Board (ECB) and its longstanding security expert, Reg Dickason, deeming the trip to Dhaka as safe.
England are slated to play a three-match ODI series and two Tests in Bangladesh, starting from October 7 at the Sher-e-Bangla in Dhaka.