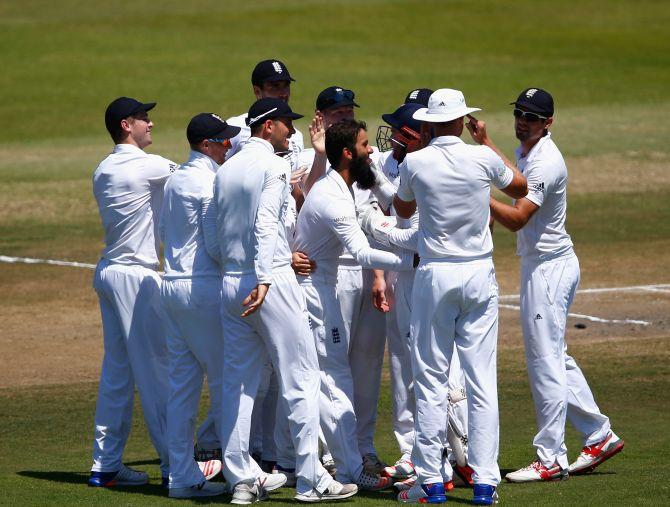 IMAGE: England's players celebrate a wicket. Photograph: Julian Finney/Getty Images
Former England skipper Michael Vaughan has called on his country's players to go ahead with their tour of Bangladesh, saying that they should trust the security experts and ignore the political machinations.

England's players were earlier given a choice to decide whether they want to tour Bangladesh later this year in the wake of the security concerns despite the England and Wales Cricket Board (ECB) and its longstanding security expert, Reg Dickason, deeming the trip to Dhaka as safe.

In his column for a leading British daily, Vaughan said he completely understands the situation that the England players had been facing, but added that they should trust the people whose job is to keep them safe.

The 41-year-old, who admitted that he never felt threatened on any tour as an England player, pointed out that Dickason had given assurance about the security and, therefore, he too feels that the players would be safe in Bangladesh.

The security concerns have sharply risen in the Asian country since last month's terror attack in Dhaka, which killed 20 hostages, including nine Italians.

Earlier in 2001, bowlers Andy Caddick and Robert Croft had pulled out of India tour due to security reasons before the entire England team refused a World Cup clash against Zimbabwe in Harare two years later.

England are slated to play a three-match ODI series and two Tests in Bangladesh, starting from October 7 at Sher-e-Bangla in Dhaka.