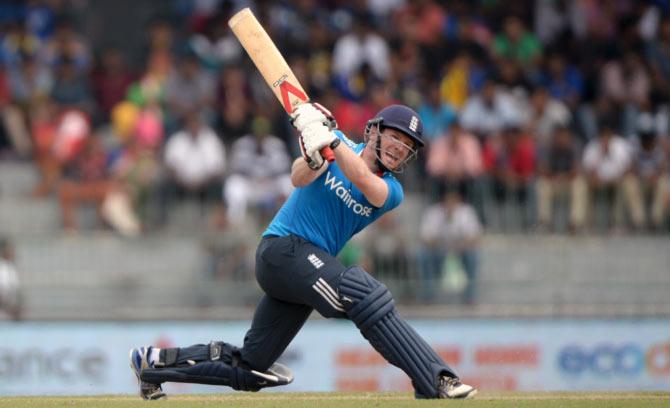 Eoin Morgan hits out. Photograph: Gareth Copley/Getty Images
Putting his Test ambitions on hold, England's One-Day International captain Eoin Morgan has decided to make himself available for selection in the 2015 Indian Premier League Players' Auction to be held in Bangalore on February 16.
- Warner says he may skip IPL to focus on Test cricket
Morgan, who missed the last IPL in the hope of earning a Test berth, said he has scaled down his Test ambition and hopes to play in the eighth edition of the cash-rich T20 tournament.
"Given where I'm at at the moment, I think the IPL is the best thing for me," Morgan said.
"The opportunity I gave myself in missing the IPL was the potential carrot at the end of the road. I think there were three positions available in the Test team at the start of last summer but I didn't manage to get any of them. So since then its been scaled down a bit."
Morgan said IPL is a great opportunity for the cricketers, including English players, to test themselves under pressure.
"It's nice to have one ear to the ground both by playing in the Big Bash and potentially the IPL again. It's very useful because cricket is changing so much that its good to have new, fresh ideas," he said.
"I think any England player who has the chance to play in these competitions should grab it with both hands. Its a great experience and a huge opportunity to put yourself under pressure and bridge that gap between our domestic game at home and the international game."
The 28-year-old, who has played for Royal Challengers Bangalore and Kolkata Knight Riders earlier, said IPL can also help in honing death bowling skills.
"I think death bowling's a big concern for a lot of teams. Given the best death bowlers in the last five years probably have been guys who have unique actions, actually go against the grain of being traditional," he said.
"And I think a lot of people, a lot of countries, suffer from that problem. The pedigree of bowlers that we have here, obviously everybody prioritises Test match cricket, and they haven't had the opportunity to come and play.
"But given if the opportunity was available, I think it would be really good for them to hone in on skills that they wouldn't normally get to do."
© Copyright 2021 PTI. All rights reserved. Republication or redistribution of PTI content, including by framing or similar means, is expressly prohibited without the prior written consent.