The ICC's new rule of using two new balls in an ODI innings, which is being applied in the ongoing India-England series, has been hugely beneficial for fast bowlers as it helps them swing the ball more, pacer R Vinay Kumar said, in Mohali, on Wednesday.
"I am feeling good. I am happy with my performance (in Delhi). Initially, the white ball didn't swing much. But using two new balls has been very helpful for bowlers," Vinay Kumar said ahead of the third ODI of the five-match series at the PCA stadium, Mohali, on Thursday.
"Previously, the ball used to swing max 5-6 overs but now it keeps on swinging for 10-12 overs. It (two new ball) is a plus factor for bowlers," said Vinay Kumar who returned with figures of four for 30 to help India spank England by eight wickets in second ODI.
Whitewashed in all formats of the game in England this summer, India came out as a wounded tiger in the return series, billed as 'payback series' and defeated Alastair Cook's men with consummate ease in the first two ODIs in Hyderabad and New Delhi.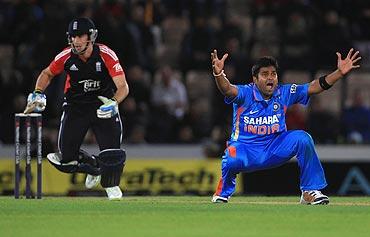 Even though he played a crucial role in India's win in New Delhi, Vinay Kumar was not disappointed to lose out on the man-of-the-match award to team-mate Virat Kohli, who guided India's successful run chase with a blistering unbeaten 112 of 98 balls.
"Virat played really well. It was a brilliant knock. For me as long as the team wins it's more than enough," he said.
He is also expecting some assistance for the pacers from the Mohali track on Thursday.
"History says that the Mohali wicket is good for fast bowlers. Hopefully, we will get good swing here," he said.
Vinay Kumar refused to comment on the talk that the ongoing rubber against England is a 'revenge series' for India, saying the main emphasis for the team was the job at hand.
"We are taking one match at a time. We will got there and try to give out best," he said.
He disagreed the theory that India's bowling attack was completely off-colour in England in their recent tour there and said luck did not favour the team in numerous occasions.
"We didn't change anything. In England also we bowled really well but because of the conditions we looked ordinary. The ball used to get wet there quickly, which made it very difficult to swing the ball," he said.
"If you look at the last five ODIs in England, in three we had the upper hand but rain and conditions did not help us," he added.
He also claimed that at no point of time during the England tour, the atmosphere in the Indian dressing room was tensed.
"The dressing room is a happy one. In England also I didn't find anything abnormal. That's the plus point of our team. The captain (Dhoni) backs everyone," he said.
Gautam Gambhir, who scored an unbeaten 84 in the last match, and Praveen Kumar were absent from the practice session today, raising doubts about the duo's availability for the third ODI.
However, sources in the Indian team management later calmed down the fears, saying that Gambhir did not attend the practice as he arrived here only this evening after attending to some family engagements in Delhi while Praveen just decided to take a break.
Asked about the duo's absence from the practice session, Vinay Kumar said he has no idea about this.
"I don't have any idea," Vinay Kumar said.
© Copyright 2021 PTI. All rights reserved. Republication or redistribution of PTI content, including by framing or similar means, is expressly prohibited without the prior written consent.