'In India the wickets and grounds are fairly quick so you have only got to play proper cricket shots and the ball will go for four and six'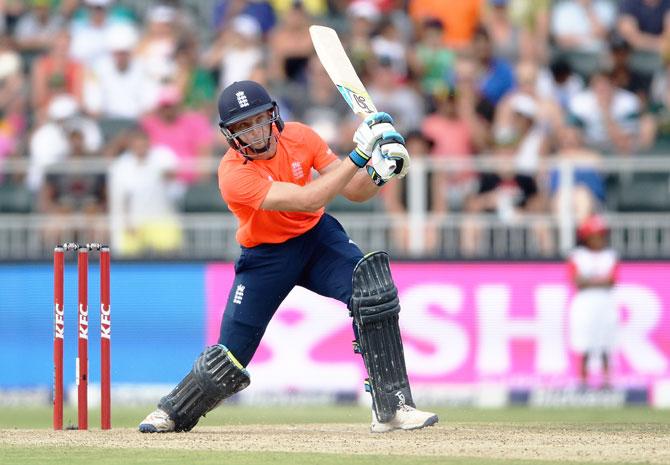 IMAGE: England batsman Jos Buttler plays a shot during the 2nd T20 International against South Africa on Sunday. Photograph: Gareth Copley/Getty Images
England coach Trevor Bayliss has urged his batsmen to rein in their gung-ho approach ahead of the World Twenty20 in India starting next month.
England lost both Twenty20 matches at the end of their tour of South Africa, including losing seven wickets for 14 runs in the second match in Johannesburg on Sunday.
- 2nd T20: De Villiers, Amla help South Africa tame England, win series 2-0
A feature of both games was way the batsmen looked to attack the bowling from ball one, but Bayliss believes they need to think more about playing more conventional strokes.
"Instead of trying to whack the ball for fours and sixes all the time we've got to play more cricket shots," Bayliss told reporters.
"In India the wickets and grounds are fairly quick so you have only got to play proper cricket shots and the ball will go for four and six.
"The last couple of games we have got into the habit of trying to hit the ball into the top of the stand and ended up hitting balls straight at fielders. It comes down to better execution."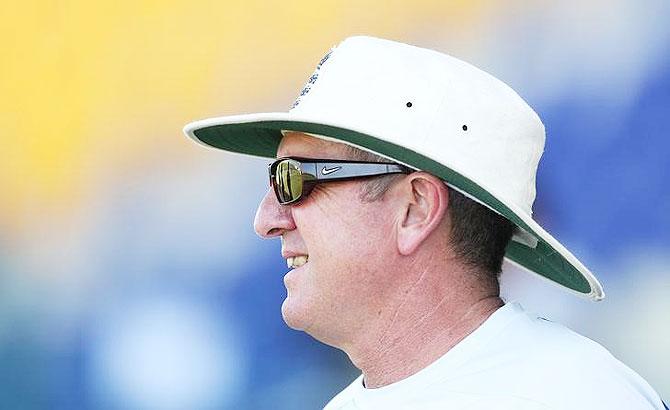 IMAGE: England head coach Trevor Bayliss. Photograph: Jason O'Brien Livepic/Files/Action Images via Reuters
Bayliss was also scathing of his bowlers, who were carted for 172 from only 88 deliveries in Johannesburg.
"We have to come up with better plans and bowl to our field," he said.
"If we have got more fielders on the off-side then there is no point bowling half-trackers down the leg-side. It is very simple stuff to be honest. Set a field and bowl to it."
England will return home before their World Twenty20 campaign that starts on March 16 against the West Indies.
Bayliss is hopeful the break will do his players good, some of whom have been in South Africa since mid-December.
"We have played some good cricket and will go home and probably recover mentally as much as physically and hopefully that freshens the boys up."
Also in England's group are South Africa, Sri Lanka and an as yet unknown team from the qualifiers that will be Scotland, Zimbabwe, Afghanistan or Hong Kong.