England's Nick Compton and Jonathan Trott punctured New Zealand's growing bubble of self-belief on Thursday as they both scored centuries to guide their side to an imposing 267 for 2 at the close of play on the first day of the second Test.
The hosts had entered the match with a burgeoning sense of confidence after a credible performance in the drawn first Test in Dunedin, though England's batsmen brought them back to earth on Thursday with a ruthlessly efficient display.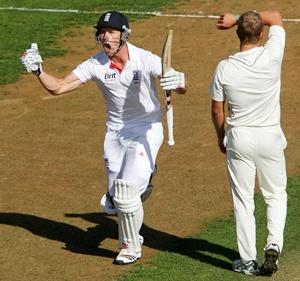 Trott was 121 not out, his ninth century, at stumps, after he and Compton combined for a 210-run partnership on a Basin Reserve pitch that was offering New Zealand little assistance.
Kevin Pietersen was on 18 at the close of play.
Compton was dismissed in the final hour for 100, his second Test century.
New Zealand captain Brendon McCullum had won the toss and chosen to bowl to try to extract whatever help they could get from the pitch expected to offer more pace and bounce than University Oval in Dunedin.
Compton and Trott, however, made him pay for that decision, comfortably dealing with the lack of swing, seam movement and penetration by the New Zealand bowlers, who consistently failed to force them to play at deliveries or create any sustained pressure.
Captain Alastair Cook (17) was the only wicket to fall in the first session when he appeared to get through his shot a little ahead of the delivery from left arm pace bowler Neil Wagner and it spooned to Peter Fulton at mid-on.
Compton and Trott then dominated the rest of the day's play.
They guided the visitors through to 162 for one at tea and then appeared to be engaged in a race between themselves as the first to three figures when play resumed in the final session.
Trott belted two boundaries in one Bruce Martin over, then Compton responded in the next by Trent Boult, dispatching the left arm medium pace bowler to the fence twice.
The 31-year-old Trott, however, reached the mark first when he rocked back and pulled a short Wagner delivery to the square-leg fence for the 14th boundary of his 174-ball innings.
Compton wasted little time in joining him, effortlessly driving a full Wagner delivery in the left armer's next over through the covers for his 15th boundary.
The 29-year-old Compton, who scored his maiden Test century in the second innings in Dunedin, punched the air in delight before the ball had even reached the boundary to celebrate the achievement.
Compton, however, did not capitalise, driving at a full delivery from left-arm spinner Martin in the first over after drinks only for the ball to bounce and turn just enough to catch an edge and fly to Ross Taylor at slip.
The third and final match of the series is at EdenPark in Auckland from March 22-26.
Scorecard
England (1st innings):
A. Cook c Fulton b Wagner 17
N. Compton c Taylor b Martin 100
J. Trott batting 121
K. Pietersen batting 18
Extras: 11
Total: (for two wickets, 90 overs) 267
Fall of wickets: 1-26, 2-236
Bowling: Southee 19-4-44-0 (w-2), Boult 20-4-78-0 (w-1), Wagner 22-5-70-1 (w-2, nb-1), Martin 27-9-58-1 (nb-1), Williamson 2-0-14-0 (nb-1).
Photograph: Hagen Hopkins/Getty Images