'I think we need to start planning for the 2019 World Cup. You have to prepare 24 months in advance. We are taking that as a challenge and look to try out different things'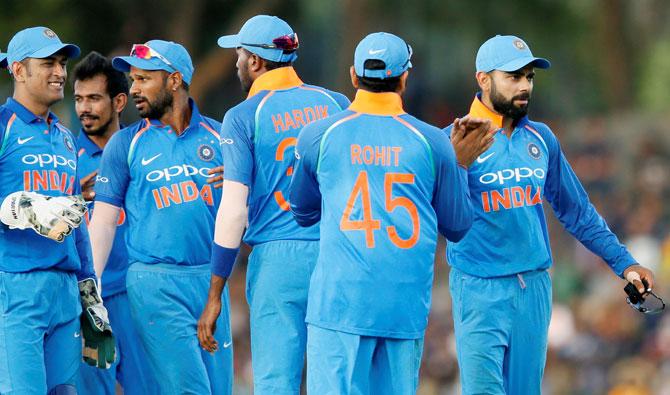 IMAGE: India captain Virat Kohli has stressed on the importance of finding the right team balance going into the World Cup. Photograph: Dinuka Liyanawatte/Reuters
His eyes firmly trained on the 2019 World Cup, skipper Virat Kohli on Sunday told the Indian cricket fraternity to expect "a lot of changes" in the coming days as the team starts drawing a roadmap for the mega event.
Kohli spoke after India crushed Sri Lanka by nine wickets in the first ODI of the five-match series in Dambulla.
"I think we need to start planning for the 2019 World Cup. You have to prepare 24 months in advance. We are taking that as a challenge and look to try out different things," Kohli said.
The captain added, "We're going to experiment and embrace that. You can see a lot of changes. All the guys have bought into it. It's all about what gives us more balance."
Kohli's comments come at an interesting time, when questions are being raised about the future of old warhorses Mahendra Singh Dhoni and Yuvraj Singh.
Kohli remained unbeaten on 82, while opener Shikar Dhawan slammed a fine century, as India recorded their biggest win in terms of overs left in a 200-plus chase.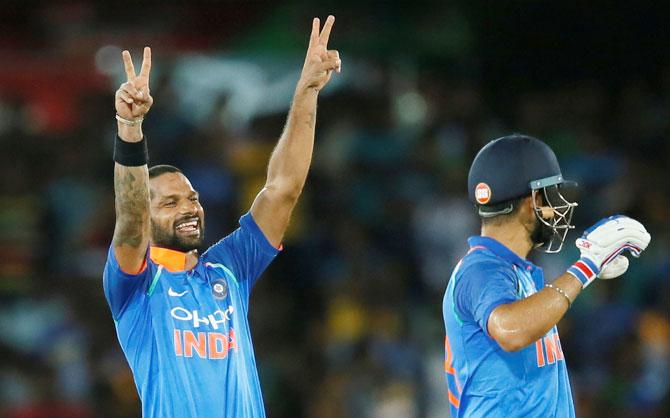 IMAGE: Shikhar Dhawan scored his 11th ODI century in only 71 balls. Photograph: Dinuka Liyanawatte/Reuters
"The last three months have been a great time for Shikhar. The good thing is that he is capitalising on his purple patch. He can win you games with the way he bats and we would be looking to keep him in that zone for as long as we can," Kohli said of his teammate.
Asked about the move to play Axar Patel in place Kuldeep Yadav, he said, "We thought Axar was a gun fielder and felt that one wrist spinner is enough. Also, Axar is a useful batsman and that helps us.
"It's the start of the series and it's about getting the batting right."
According to Kohli, the ball was coming onto the bat like a "dream" after India bowled out Sri Lanka for 216 in 43.2 overs.
"They got off to a very good start. We thought we'd be chasing something close to 300. It was a brilliant wicket for batting. The ball was coming onto the bat like a dream under lights and Shikhar and I enjoyed batting together."
Man-of the Match Dhawan said he is only focussed on the process.
"Things have been going well for me. I have only kept my focus on the processes and not on the results. The mental preparation helps me keep confidence in myself. I just wanted to play on the merit of the ball and keep my focus on," Dhawan said.