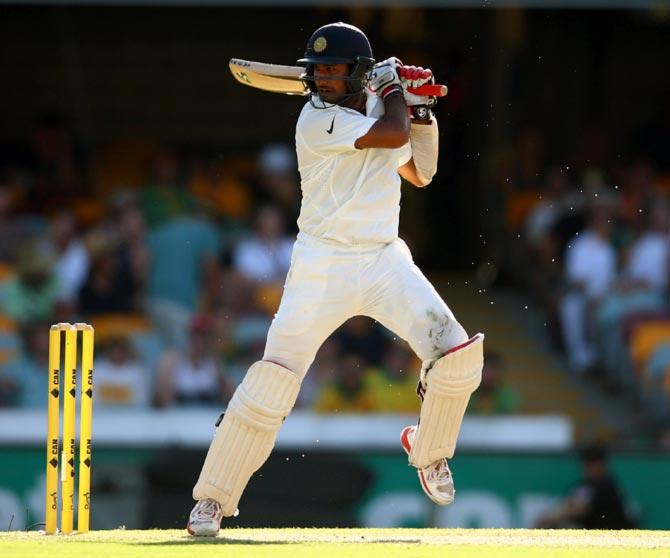 IMAGE: Cheteshwar Pujara. Photograph: Cameron Spencer/Getty Images.
Under pressure to retain his place in the Test XI, Cheteshwar Pujara overshadowed Rohit Sharma by scoring a solid hundred as India Blue made full use of a placid track to amass 362/3 against India Red on the first day of the Duleep Trophy final in Greater Noida.
The other significant contributor today was skipper Gautam Gambhir with a gutsy 94 off 145 balls.
On a track devoid of grass, Pujara dominated the bowling in his unbeaten 111 off 164 balls, which was laced with 15 boundaries.
En route his second ton after 166 in the earlier match, Pujara also completed 10,000 runs in first-class cricket.
With Rohit again effortlessly reaching 30 before playing a poor shot, Pujara definitely made a case for himself and gave enough reasons to skipper Virat Kohli to ponder on the playing XI for the Kanpur Test against New Zealand.
Pujara played some delightful shots square off the wicket -- a square cut off Stuart Binny and a back drive off Nathu Singh standing out.
He reached his 33rd first-class ton with a cover driven boundary off Binny. Not a single Red team bowler could trouble the 'Rajkot Run Machine' who not only presented a tight defence but also attacked the bowling at will.
While Rohit's indiscretion after a 66-run stand cost him his wicket, Pujara did not let his guard down. This enabled Dinesh Karthik to play his natural attacking game as he remained unbeaten on 55 off 68 balls with eight boundaries.
He has added 120 runs for unbroken fourth-wicket stand with Pujara.
Blues skipper Gambhir (94) also continued to pile up runs as he again missed out on a hundred by six runs, chopping one from Kuldeep Yadav onto the stumps.
Among his eight boundaries, six were hit off Amit Mishra on either side of the ground and two off Kuldeep, which indicated his domination against slow bowlers. Along with Mayank Agarwal (57), he added 144 runs in 37.1 overs.
With 320 runs at an average of 80, Gambhir may have made a great start to this first-class season but it might not be enough at this moment to get an India berth with KL Rahul, Shikhar Dhawan and Murali Vijay fighting for three slots.
For the bowlers, it was a frustrating day as the spinners didn't get the expected purchase. Amit Mishra's pink ball debut was an inauspicious one as he also reached the 'three figure mark', though not the coveted one. His figures of 1/103 in 23 overs only added pressure on the Reds. Kuldeep Yadav (23-2-97-1) didn't look as menacing as he was in earlier games bowling a lot of half-trackers.
Brief scores: India Blue 362/3 (Chesteshwar Pujara 111 batting, Gautam Gambhir 94, Mayank Agarwal 57, Dinesh Karthick 55 batting, Kuldeep Yadav 1/97, Amit Mishra 1/103) vs India Red.