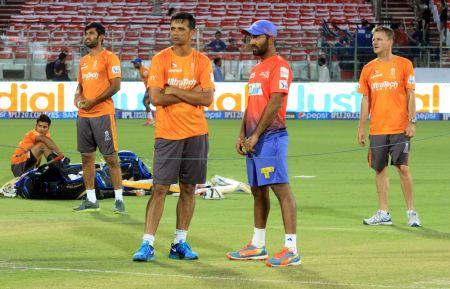 Former Indian batsmen Rahul Dravid will continue to mentor Rajasthan Royals for another IPL season, said team CEO Raghu Iyer on Wednesday.
"He continues being a mentor for another season. He has got various other commitments but I am glad he has decided to help us for another year," Iyer said.
Dravid, who has played for the Royals before retiring from all forms of cricket in 2013, was appointed mentor for the 2014 IPL edition.
Iyer said Dravid's presence will give the team a big push for IPL-8, scheduled for April 8-May 24.
"It is outstanding to have him. Strategically he is a tremendous help and the junior cricketers in the squad get to learn so much from him. Overall it is a big boost that he has decided to stay. He personifies what Royals are all about," said the CEO.
Royals have released batsman Unmukt Chand to Mumbai Indians in first of the three IPL trading windows that ends on December 12.
Iyer said it is unlikely that the team will make an addition to the 24-member squad in the first trading window.
"We actually have enough players to choose from. Probably we will think about some players closer to the IPL. As far as Unmukt is concerned, Mumbai Indians wanted him and we let him go. He was not getting the right opportunities with us and he is too good a player to be sitting on the bench. It would have been unfair to hold on to him.
"Overall our existing resources are fantastic. We have a great team. We just need a few tweaks here and there and those changes we will we make before the tournament," he said.
The Supreme Court is expected to announce its verdict on the IPL spot-fixing case at a hearing on November 10, two seasons after some Rajasthan Royals players including S Sreesanth were arrested on charges of spot-fixing during the 2013 edition.
Iyer is hoping for a just verdict. "The committee has done what they were directed to do by the Supreme Court and now have to wait see what the verdict is. After the unfortunate episode, the cricketers have far more amount of education on the subject. They are more aware of the dire consequences but you can never say that it won't happen again," he added.
Image: Rahul Dravid chats with Dinesh Karthik
Photograph: BCCI