'I want to play this kind of cricket even when I am 34-35'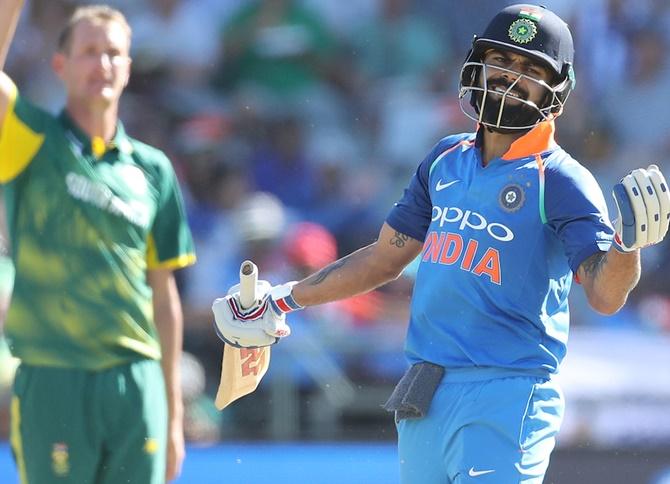 IMAGE: Virat Kohli (captain) of India reacts. Photograph: BCCI
Intensity is the hallmark of his batting and India captain Virat Kohli says he has no idea what he would do if that was gone, the primary reason behind his obsessive focus of physical fitness.
The 29-year-old run-machine slammed his 34th one-day hundred in the third ODI against South Africa on Wednesday, once again playing a pivotal role in a massive India win.
"Look I am going to be 30 this year...I want to play this kind of cricket even when I am 34-35. That's why I train so much because I am a guy who likes to play with intensity. Once that is gone, I don't know what I am going to do on the field," Kohli said reflecting on his unbeaten knock of 160, which guided India to a 124-run triumph for an unassailable 3-0 lead in the series.
"I try to protect that. I try to train as much as I can. Keep a check on my diet. Those things pay off on days like these. When the team needs it, and you stand up, and you are able to pull through. As an athlete you crave for days like these," he added.
Kohli said Wednesday's hundred was special in the sense that he had to continuously change his game through the innings. He said these were hard earned runs on a tough wicket against a good bowling attack.
"International runs are never easy. They are hard earned. Some might come on more batting-friendly pitches, but I think with their attack, and the pace and bounce they were getting initially, you had to adjust your game."
"Then the wicket got considerably slower after the 30th over, so you had to again adjust your game, and make sure, with wickets falling also, that you continued adjusting through the innings," Kohli said.
Kohli said thinking of the team's requirements helps him gloss over the physical strains of playing a marathon knock.
"I was pleased from that point of view that I was able to bat through because I was struggling with a bit of cramp around the 90s. Then wickets kept falling, I decided to hit out, because I thought I might not have enough energy left."
"Then amazing things can happen when you are thinking about the team all the time. You can push your body beyond limits that you might not push yourself otherwise. I experienced that today, and that was an amazing feeling," he added.
This was Kohli's second highest ODI score. He also became the first Indian batsman to score a hundred against South Africa at Newlands. Overall, he scored his 12th ODI hundred as Indian skipper, going past Sourav Ganguly's record of 11 centuries.
Kohli said that there is a marked difference in how he approaches scoring runs when batting first and when chasing.
"Today I wanted to accelerate at different times. When Shikhar Dhawan was batting, my job was to take singles...and keep rotating the strike, to be able to get the partnership going. When he got out I wanted to accelerate but we lost 2-3 wickets immediately.
"When batting first, you switch roles -- one guy is aggressor and you become the guy who is rotating strike. When he goes, you take that role up and another guy rotates strike. That is how it is usually done," he said.
While chasing, Kohli said, it is easier to compartmentalise since the target is already there to be chased.
"Batting second is very different in terms of knowing what you need to do, when to accelerate, when to keep those singles coming, etc. Batting first, you want to score as many as possible but sometimes the situation doesn't allow you to play in a certain way that you want to throughout the innings," he explained.