Former India captain Sunil Gavaskar condemns unruly crowd behaviour at Barabati stadium, says, as a deterrent, BCCI must also stop subsidy to Odisha Cricket Association.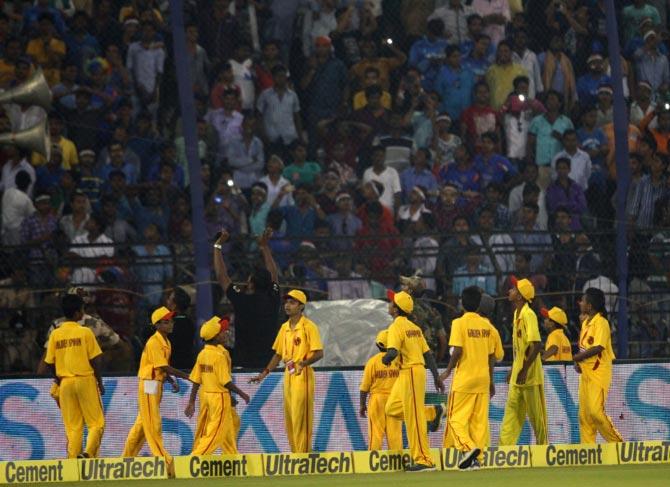 IMAGE: Ball boys clear the field of the bottles thrown from the stands during the second T20I between India and South Africa in Cuttack. Photograph: BCCI
Former India captain Sunil Gavaskar condemned the unruly crowd behaviour and police response to it during Monday's second Twenty20 International against South Africa, saying the Barabati stadium in Cuttack should be banned as an international venue for two years.
The match, which South Africa won by six wickets after bowling India out for 92 runs, was marred by crowd trouble, as spectators threw water bottles on the field, forcing play to be disrupted.
"The police were standing there without any instructions. The policemen, who are stationed on the boundary perimeter should not be watching cricket but monitoring the behaviour of the fans," a furious Gavaskar told NDTV.
"Cuttack should not be given an international match for the next couple of years. As a deterrent, the BCCI must also stop the subsidy to the Odisha Cricket Association," he said.
The legendary opening batsman said irrespective of the team's poor performance, spectators have no right to disrupt play by throwing objects on the field.
"Do the crowd throw valuables when the team does well? When the team does badly, the fans have no business to throw rubbish," he declared.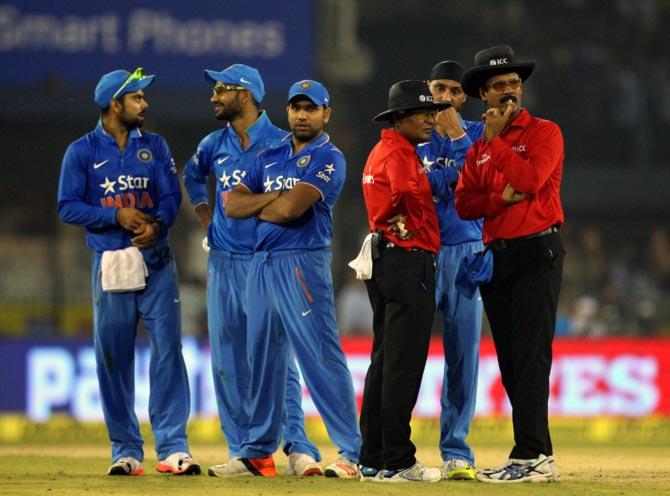 IMAGE: A few Indian players and two umpires wait as play is halted because of unruly crowd behaviour. Photograph: BCCI
India were bowled out for their second-lowest total in T20I history as comeback-man Albie Morkel claimed three wickets to dismantle the home side's batting.
"My honest advice to Indian players is not to get complacent. They must strive to get better. Amit Mishra could have been tried as MS Dhoni had no confidence in Axar Patel. I think Axar is being rushed into international cricket too soon," said Gavaskar in his analysis of the Indian team's performance so far.
South Africa lead the three-match T20 series 2-0 lead, having won the first in Dharamsala by seven wickets.
The third match is in Kolkata on October 8.
The T20 Internationals will be followed by a five-match ODI series, starting October 11.
Also read:
- Ashwin becomes India's top wicket-taker in T20Is