'A little bit of banter is okay, because at the end of the day, especially with the T20 format, it is also entertainment.'
Mandira Bedi and Archana Vijaya discuss Chris Gayle with Harish Kotian/Rediff.com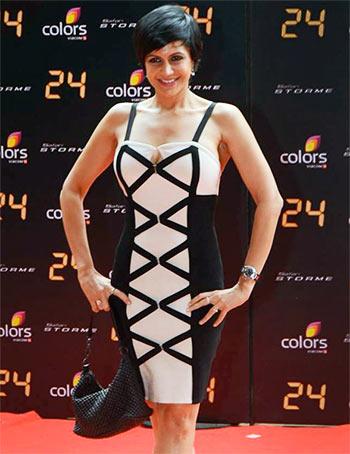 IMAGE: Mandira Bedi. Photograph: Pradeep Bandekar
Popular sports presenters Mandira Bedi and Archana Vijaya criticised Chris Gayle for his inappropriate behaviour with a lady television presenter during an interview in Australia, but hastened to add that banning the West Indian from international cricket would be an extreme step.
Gayle was in the eye of a storm last week for making inappropriate remarks to the presenter live on air after a Big Bash League game.
The burly West Indian, who plays for the Melbourne Renegades in the T20 competition, was speaking to Channel 10 presenter Mel McLaughlin.
'I wanted to come and have an interview with you as well, that's the reason why I'm here... to see your eyes for the first time,' Gayle told McLaughlin.
'Hopefully we win this game and we can have a drink after, don't blush baby,' he added.
The big-hitting batsman came in for a lot of flak and former Australia captain Ian Chappell called for a worldwide ban on Gayle.
Mandira Bedi, who was an instant hit as presenter for the 2003 and 2007 World Cups with Indian television audiences, concurred that Gayle's comments were disrespectful.
"Chris Gayle has always been known to be a rather irreverent person. Having said that, I don't know, I think there is a time and place if he wants to ask her out. Doing that on air is a little bit disrespectful," Bedi said.
"Complimenting somebody... I don't think there is something wrong with that, but asking somebody out, it belittles what she herself is there for. Whatever your equation you might have off camera, it is a separate thing. I don't think it is very polite and respectful asking someone out during an interview. It is disrespectful to do that on air, but a ban on him would be a bit extreme," Bedi added.
Model Archana Vijaya, who conducts on ground interviews with cricketers during Indian Premier League games, echoed Bedi's sentiments.
"I think it is extremely unfortunate. I think the way it panned out at the end was uncalled for. I am obviously of the firm belief that a little bit of banter is okay, because at the end of the day, especially with the T20 format, it is also entertainment," Vijaya said. "I think with a little bit of lightness, there is a bit of banter, it is more casual."
"I am somebody who has also presented Test cricket, One-Day Internationals and T20, so I can say that banter is a bit casual, but, obviously, as a woman, I would not appreciate if I was being flirted with or being hit upon on international TV," she said.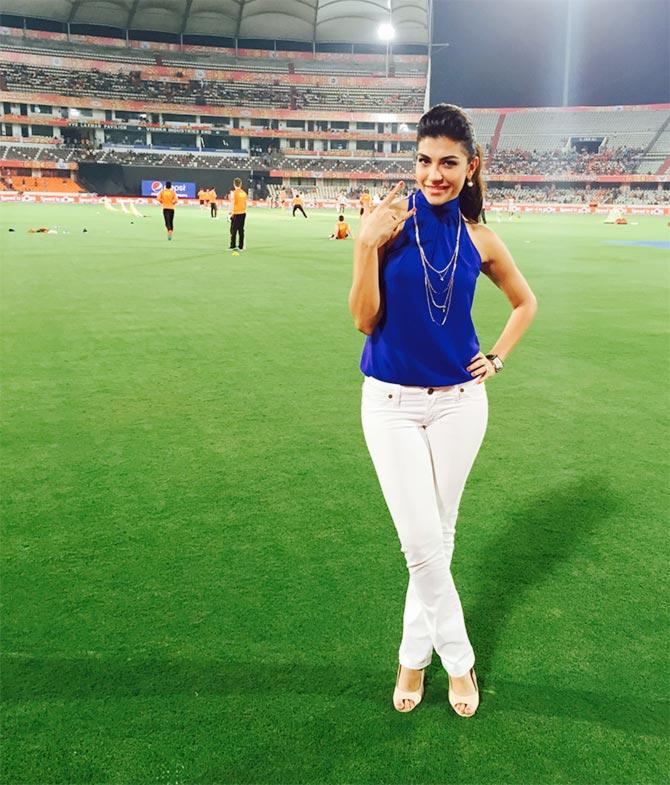 IMAGE: Archana Vijaya.
Both Vijaya and Bedi were unanimous that Gayle should not be banned for his remarks.
"The reactions where people are calling for him to be banned from world cricket is a bit extreme. He should be made to realise that it is just not the right way to go about things or to be interviewed," Vijaya said. "That sets the precedent for others."
Vijaya pointed out that she had interviewed Gayle during IPL seasons and has never faced any problem with him.
"In my experience, it has always been fun," she said. "He is extremely casual in his interaction. Maybe sometimes you don't know where to draw the line and that is what happened in this case. But, mostly in our interactions, he has been pretty good, he has been casual, he has been fun, makes for great content on TV."
"It is a double-edged sword," Vijaya said, "sometimes the banter can get out of hand as it happened in this case."