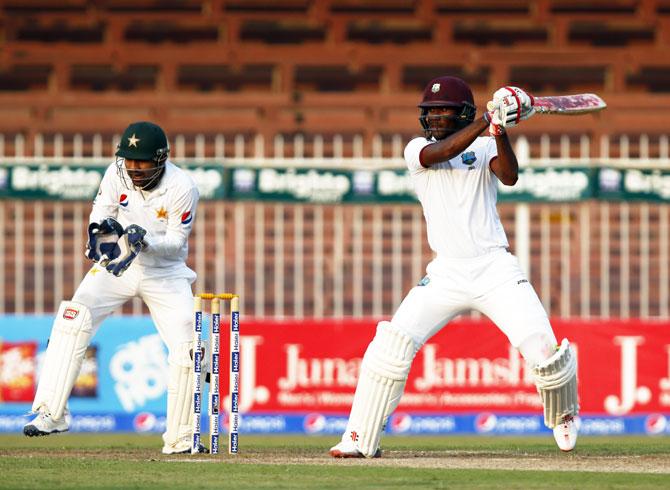 IMAGE: West Indies' Kraigg Brathwaite bats on Day 2 of the 3rd Test against Pakistan at Sharjah Cricket Stadium on Monday. Photograph: Chris Whiteoak/Getty Images
Kraigg Brathwaite made a patient unbeaten 95 to lead West Indies to 244 for six at the close on the second day of the third and final Test against Pakistan in Sharjah on Monday.
The opener batted more than five hours and hit 10 fours as the touring side recovered from a poor start to move within 37 runs of their hosts, who were bowled out for 281 in the morning.
Brathwaite, nearing his fifth Test century, shared gritty partnerships of 83 with Roston Chase (50) and Shane Dowrich (47) after West Indies had collapsed to 68 for four.
Darren Bravo was out for 12 before lunch, brilliantly caught by a diving Mohammad Amir off Zulfiqur Babar.
It was Amir's first Test catch in his 20th match, the longest time any player has taken to get off the mark.
Pakistan hold an unassailable 2-0 lead in the series.
SCOREBOARD
Pakistan first innings (overnight 255-8)
Sami Aslam c Holder b Bishoo 74
Azhar Ali c Brathwaite b Gabriel 0
Asad Shafiq lbw b Gabriel 0
Younis Khan c Johnson b Chase 51
Misbah-ul-Haq c Dowrich b Bishoo 53
Sarfraz Ahmed b Gabriel 51
Mohammad Nawaz st Dowrich b Bishoo 6
Wahab Riaz lbw b Bishoo 4
Yasir Shah b Joseph 12
Mohammad Amir b Joseph 20
Zulfiqar Babar not out 1
Extras: (lb4, nb4, w1) 9
Total: (all out; 90.5 overs) 281
Fall of wickets: 1-1, 2-1, 3-107, 4-150, 5-230, 6-242, 7-248, 8-248, 9-280
Bowling: Gabriel 21-1-67-3 (2nb), Joseph 16.5-5-57-2 (2nb, 1w), Holder 12-4-29-0, Chase 20-5-47-1, Bishoo 21-3-77-4
West Indies first innings
K. Brathwaite not out 95
L. Johnson lbw b Riaz 1
D. Bravo c Amir b Babar 11
M. Samuels lbw b Shah 0
J. Blackwood c Shafiq b Amir 23
R. Chase c Younis b Amir 50
S. Dowrich b Riaz 47
J. Holder not out 6
Extras: (lb-6, nb-5) 11
Total: (for six wkts; 78 overs) 244
Fall of wickets: 1-6, 2-32, 3-38, 4-68, 5-151, 6-234
Bowling: Amir 17-4-44-2 (2nb), Riaz 16-0-65-2 (3nb), Shah 18-2-56-1, Babar 17-3-45-1, Nawaz 4-0-12-0, Ali 6-0-16-0.