He has enjoyed prime form in first class cricket this season, but despite being excluded from the IPL auctions list, Jharkhand's Ishant Jaggi tells Rediff.com's Harish Kotian that he is mentally strong and will continue to perform.
He also reckons that the auditions and the simulation tests conducted by the IPL franchises to identify players is not the right way to go about things.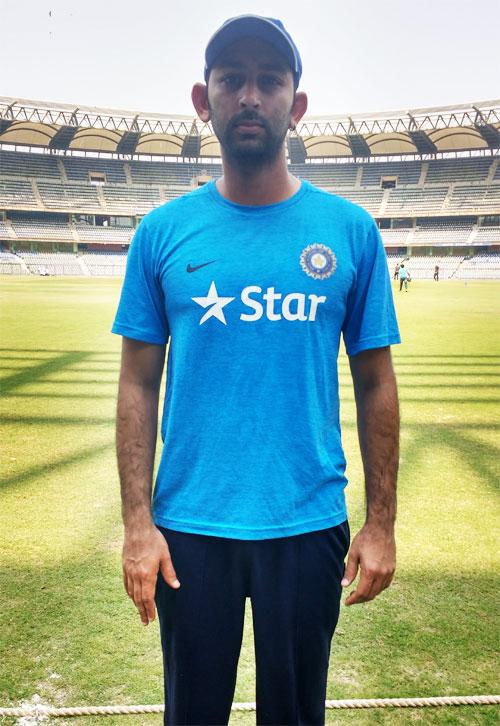 One of the top performers in domestic cricket this season, Ishant Jaggi faced 'disappointment' when he was not listed in the Players' Auction for this year's Indian Premier League.
Jaggi amassed 890 runs in 10 games, inclusive of four centuries and three fifties, in the Ranji Trophy last season to help Jharkhand make it to the semi-finals for their first time ever.
He has continued his good showing with consistent performances in the ongoing Syed Mushtaq Ali Trophy Interal Zonal T20 tournament too.
Playing for East Zone, the 28-year-old has hit two successive half-centuries to showcase his potential and also prove a point to the eight IPL franchises, which have conveniently ignored him.
He hit an unbeaten 51 against South Zone in the first match on Monday, and followed it up with a cracking innings of 90 from 51 balls against South, helping his team chase down a mammoth 179 for victory, on Wednesday.
Speaking immediately after his match-winning innings at the Wankhede Stadium in Mumbai, Jaggi said: "It was an important knock because our team won. Also, it was important on a personal level because I was disappointed last evening (at not being part of the pool for the IPL players' auction). It has been a good season for me as I feel I have hit the peak."
Jaggi was excluded from the list of the 351 players, who will go under the hammer during the IPL Auction in Bengaluru on February 20.
"I am disappointed, but I have to keep performing. I am a professional cricketer and want to keep growing. These things make me mentally stronger as the challenge is huge. Every player is almost the same level so I need do things that will make me move ahead."
"Whatever happened on Tuesday, I was a bit upset, but my family has always been behind me. They have told me that my job is to continue performing and I will do that. In fact, I got that reprieve today and made the most of it. So luck helps," he added.
Jaggi pointed out that a player does make his name by performing well in domestic tournaments like Ranji Trophy.
"IPL is the biggest platform. You can perform well in domestic cricket but if you continue that form in IPL it will take you much higher. So just performing in the IPL is not the criteria to play for the country and just playing in the IPL is not the only thing, you have to do well in Ranji Trophy because that makes you mentally strong as well and it helps you in the IPL and altogether it pushes you to perform for the country and help the team win," he said.
Jaggi could still get into the IPL Players' Auction if any of the franchises do write to the BCCI asking to get his name back in the auction pool.
However, even if that doesn't materialise Jaggi will not hold any grudges.
"Because I want to play at the top, I need to continue performing at my best in every match. If I held a grudge and went out to bat I may not have been that successful today. I know that I need to be calm. So, I did not hold any grudge," he said.
Jaggi, who has played 67 first class matches since making his debut in 2008, believes that the auditions and the simulation tests conducted by the IPL franchises to identify players is not the right way to go about things.
"Honestly, the audition with the IPL teams is not of much help. I have been there two years ago and know how things work. At least it has not worked for me as I feel scoring runs at the first class level is more beneficial than only doing well at the trials. That said, it is strictly my opinion," he said.
Jaggi also hailed Jharkhand coach Rajiv Kumar's contributions as integral in their good showing in the Ranji Trophy this season.
"From my point of view, I would say it has been our coach Rajiv Kumar and it is not something that I have told anyone. We have been playing with the same team for the last 4-5 years but we were never performing as a team.
"We were good individuals but we were not playing as a team. When he took over last year, for the first four games we had a very bad patch, we were not winning. Even after the fourth game, this guy gave us a lot of confidence; this guy changed everything from the mindset to the positivity and everything. He gave us confidence and told us to go out and express ourselves and that is the only we can perform. He told us not to have fear of failure and that was a big factor," he trailed off.
Image: Ishant Jaggi
Photograph: Harish Kotian/Rediff.com