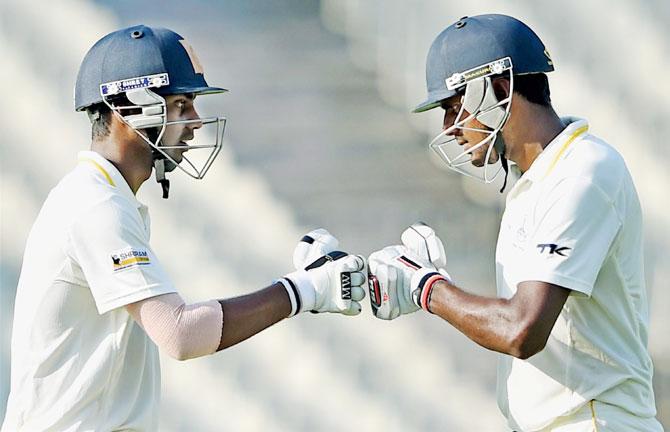 Tamil Nadu batsmen Ramaswamy Prasanna and Baba Indrajit compliment each other during the second day's play in the Ranji Trophy semi-final against Maharashtra at the Eden Gardens in Kolkata. Photograph: PTI
Dinesh Karthik scored a solid 113 as Tamil Nadu took command of their Ranji Trophy semi-final against Maharashtra at the Eden Gardens, in Kolkata, on on Thursday.
On a deceptive green top that had little in it for the bowlers, he made hay even as half-centuries from Vijay Shankar (91), Ramaswamy Prasanna (64 not out) and Baba Indrajith (68 not out) down the order ensured Tamil Nadu amassed 426 for 5 in 177 overs at the close of play on Day 2.
Under hot and humid conditions, it was a frustrating day for Maharashtra as captain Rohit Motwani used eight bowlers, who toiled only to take two wickets as Tamil Nadu opted to play it safe, scoring at a run rate of 2.6 an over.
- Don't Miss! The Rediff Cricket Show
Continuing with his fine form, Indrajith, who scored 111 and 49 against Vidarbha, slammed his second successive half-century and put on 107 runs with Prasanna for the unbroken sixth wicket.
Karthik's innings spanned seven hours and 35 minutes as he consumed 304 balls for his 22nd first class century before edging one to wicketkeeper Motwani off Shrikanth Mundhe. He was only the second batsman to be dismissed in the day.
The wicketkeeper-batsman later said his team had no qualms about the slow approach.
"There is no compulsion to have a result on a five-day game. We are looking to play maximum overs and not thinking about declaration," he said, making it clear that they do not have any intention of a declaration.
"There are a few odd balls keeping low. Maharashtra bowled wide and played negative cricket and we opted to leave them out," he added.
Karthik also hinted that he's eyeing the wicketkeeper's berth in the Test squad which is up for grabs after the retirement of Mahendra Singh Dhoni from the longer version of the game.
"I am happy with my form. I just want to keep scoring runs and let my bat do the talking," he said.
Earlier, just second over before lunch, the other overnight batsman, Vijay Shankar, missed a second successive century by just nine runs when he mistimed Chirag Khurana and was caught by Kedar Jadhav at cover.
Shankar, who has scored 111 and 82 against Vidharbha in the quarter-finals, faced 194 balls as he hit 11 fours and the only six in Tamil Nadu's innings when he stepped out to Anupam Sanklecha and hit over long on in the 116th over.
The Karthik-Shankar duo put on 190 runs from 395 balls for the fifth wicket and after their departure Prasanna and Indrajith consolidated their innings.
Brief scores:
Tamil Nadu: 426-5 in 177 overs (Dinesh Karthik 113, Vijay Shankar 91, Baba Aparajith 68 batting, R Prasanna 64 batting)vs Maharashtra.