India's limited-overs teams' skipper Mahendra Singh Dhoni was named captain of new Indian Premier League franchise Rising Pune Supergiants on Monday.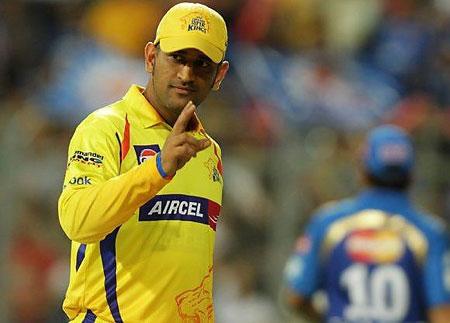 Unveiling the team logo and captain, team owner Sanjiv Goenka said: "I welcome Dhoni as the captain of Rising Pune Supergiants for the 2016 season.
"He has always been a phenomenal leader for teams that he has represented including the Indian side. His track record in both, domestic and international, arenas have been remarkable. I firmly believe he will lead our team extremely well on and off the field."
In another announcement, Raghu Iyer was named CEO for the RP-Sanjiv Goenka group's sports vertical.
"(Raghu) Iyer, previously, with Rajasthan Royals, will be joining as the CEO of the sports vertical of the group," Goenka said.
Asked why Dhoni was named captain only for one season, he said: "Right now the focus is only on 2016 and the team building. That's why we named Dhoni as the captain."
Dhoni will lead a star-studded side, which includes Australia skipper Steve Smith, South African skipper Faf du Plessis and the experienced Indian duo of Ajinkya Rahane and Ravichandran Ashwin.
Goenka believes there will be no clash of egos between the big names in the squad.
"Practically, we hope there will be complete harmony in the team. The likes of MS (Dhoni), Steve Smith and Faf du Plessis are seasoned leaders. I don't think there will be any chance of a friction in the team," he said.
Asked if Australia's Michael Hussey, another former Chennai Super Kings player/official, will also be on board, he replied: "This is not CSK. Just because someone was in CSK won't mean that he will be here as well.
"Just because we are a new team we don't want to put out an excuse that we could not do this or that. We have to do what we have to and we are confident of doing well."
Goenka also reiterated that former India captain Sourav Ganguly, his co-owner at ISL football franchise Atletico de Kolkata, has no role in the team.
"Sourav has no involvement in the team. It's for the Ombdusman to decide; why asking me?" he said, commenting on the reported conflict of interest of Ganguly.
Interestingly, the team is abbreviated as RPSG, the same as the RP Sanjiv Goenka Group.
Image: Mahendra Singh Dhoni
Photograph: BCCI