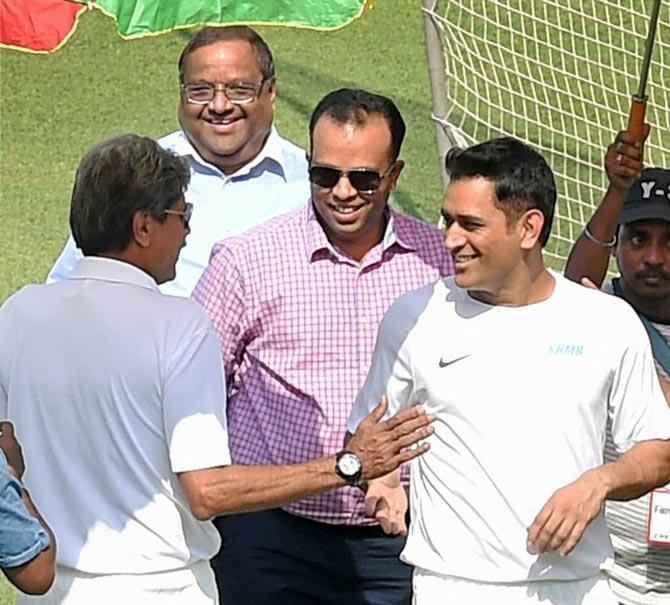 IMAGE: Mahendra Singh Dhoni with Kapil Dev during an ad shoot at the Eden Gardens in Kolkata on Thursday. Photograph: PTI
In a surprise visit, former India captain Mahendra Singh Dhoni dropped in at the Eden Gardens Stadium and took a good look at the pitch laid for the first India vs Sri Lanka Test.
Retired, former Test cricketer Dhoni was in the city for a commercial shoot with another former skipper Kapil Dev.
In the morning session, he was seen talking to curator Sujan Mukherrjee, checking the EdenGardens strip that will host Virat Kohli and Co in their first Test against Sri Lanka from November 16-20.
"Dhoni really appreciated the pitch preparation and wished us for the Test match," Mukherjee later said.
Dhoni and Kapil spent the whole day bowling and batting as per the shooting requirements and were joined by a host of kids.
First, it was Kapil who was seen bowling to Dhoni and as the film rolled, it was role reversal with the Indian legendary wicketkeeper rolling his arms to the 1983 World Cup winning captain in the ad sequence of 33 seconds, directed by noted Bengali producer-director Arindam Sil.
Sil, who has acted in a number of feature films, telefilms and mega serials termed it a "lifetime experience" and said he's feeling very lucky and blessed to have shot his first TV ad with the two World Cup winning captains at the hallowed turf of EdenGardens.
"It's the Mecca of Cricket and I had two World Cup winning captains shooting for me. It's the most memorable day in my life," Sil told reporters.
"They were the best of the captains. I felt nostalgic. I have watched them play from the same galleries here but to shoot with them now at the same venue is a lifetime experience," Sil added.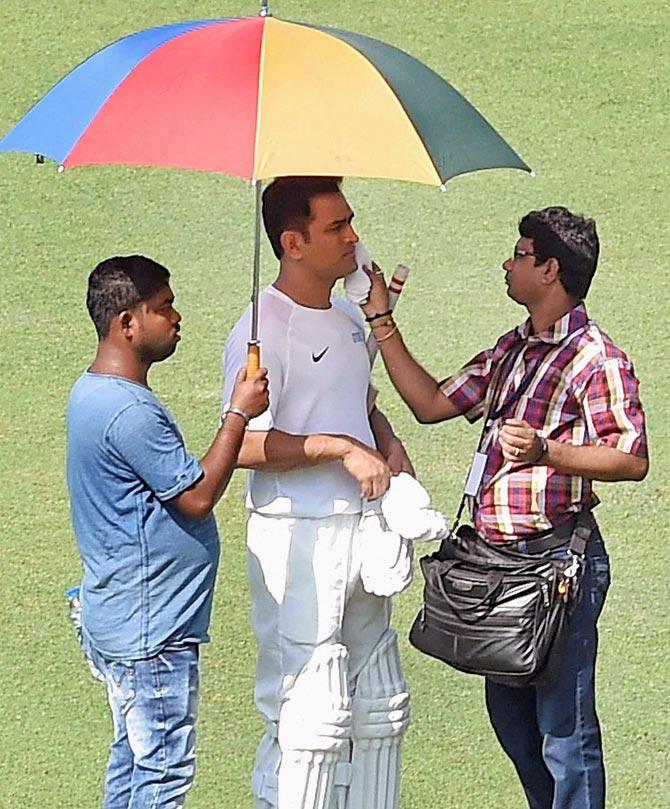 IMAGE: Mahendra Singh Dhoni has make up put on his face in between shots. Photograph: PTI
Sil further said he made them slog under the scorching sun but they were very humble and patient.
"Kapil said he would get tired to bowl but once he went to his bowling marks he went on and on and bowled numerous deliveries. He also batted and it felt the Kapil Dev of old is back."
Dhoni also interacted with a dozen kids.
"He told them on how to play aggressively about the stance and all of this in the midst of the busy work. It's brilliant," the director said.
He termed Dhoni as a natural actor.
"I didn't require a retake from Dhoni, he was natural in front of the camera."
Thanking the CAB president Sourav Ganguly, Sil said: "I am thankful to Sourav (Ganguly) for providing us the Eden. He said 'please go ahead'."
Towards the evening while the duo were taking a break from the shoot, they were joined by Ganguly as the three successful former captains made for a photographers' delight.
The final part of the shoot will take place a in a studio tomorrow and the next day Dhoni will fly to Dubai to launch the MS Dhoni Cricket Academy on November 11, Mihir Diwakar, Dhoni's commercial partner in Aarka Sports and former Jharkhand cricketer told PTI.
"He flew straight from Thiruvananthapuram after playing the final T20I (against New Zealand) yesterday afternoon. His schedule is hectic but he keeps himself fit sticking to his regime," Diwakar said.