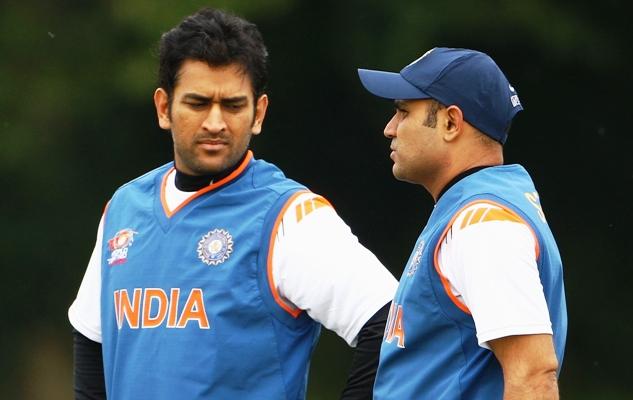 IMAGE: Mahendra Singh Dhoni and Virender Sehwag during an India nets session. Photograph: Getty Images
India's ODI captain Mahendra Singh Dhoni and compatriot Virender Sehwag will join a host of international cricketers at the Kia Oval on September 17 in a 'Help for Heroes' fundraiser, Cricket for Heroes match.
The two Indians will share the dressing room with Pakistan's Shahid Afridi and former South Africa ace Herschelle Gibbs when they represent Help for Heroes XI, captained by England Director of Cricket Andrew Strauss and managed by the great Ian Botham.
They will take on a Rest of the World XI, comprising Brendon McCullum, Matthew Hayden, Mahela Jayawardene and Graeme Smith, as well as Kiwis Scott Styris and Daniel Vettori and charismatic Afghan Shapoor Zadran.
The team will be coached by Gary Kirsten and managed by Indian legend Sunil Gavaskar.
The game will be preceded by a Twenty20 match between the incredible Help for Heroes Cricket Club and the England Physical Disability Team.
Looking ahead to the fundraiser, Dhoni said: "I am delighted to be joining so many cricketing superstars at the Kia Oval and supporting such a worthy cause.
"I've always enjoyed playing cricket in England and I would urge all sports fans to support Help for Heroes on September 17 and watch some truly world class performers in action."
Tickets for the day cost just £20 for adults and £1 for Under-16s and can be bought at www.cricketforheroes.com
| | |
| --- | --- |
| Help for Heroes XI | Rest of the World |
| 1. Andrew Strauss | 1. Brendon McCullum |
| 2. Herschelle Gibbs | 2. Matthew Hayden |
| 3. Virender Sehwag | 3. Graeme Smith |
| 4. MS Dhoni | 4. Mahela Jayawardene |
| 5. Damien Martyn | 5. Major Storm Green |
| 6. Lt. Commander Jonathan Parker | 6. Brian Lara |
| 7. Corporal Jake Wray | 7. Abdul Razzaq |
| 8. Shahid Afridi | 8. Scott Styris |
| 9. Graeme Swann | 9. Dan Vettori |
| 10. Simon Jones | 10. Tim Southee |
| 11. Matthew Hoggard | 11. Shapoor Zadran |
| 12. Darren Gough | 12. TBC |
| Manager: Sir Ian Botham | Manager: Sunil Gavaskar |
| Coach: TBC | Coach: Gary Kirsten |