Indian cricket captain Mahendra Singh Dhoni, who is also an Honorary Lt Col in the Territorial Army, on Tuesday, chose to give the organisation's annual parade in New Delhi a miss.
It sparked off a debate whether celebrities should be conferred such titles or not.
The development comes in the backdrop of IAF's unhappiness over both, Honorary Group Captain Sachin Tendulkar and Dhoni, not availing its offer of flying in their premier Su-30MKI aircraft.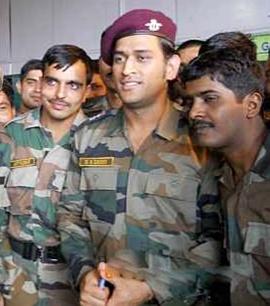 The IAF, on Monday, suggested it would not be able to fly the duo in any of their fighter jets in near future as the service was "very busy".
Dhoni was conferred with the title of Honorary Lt Col in November last year while Tendulkar was inducted into the Air Force as an Honorary Group Captain in September 2010.
When Defence Minister A K Antony was asked about the commitment of celebrities such as Dhoni towards the volunteer Army, he said, "The fact is that most of them are devoting their time and energy for the Territorial Army battalions."
"They are inspiration to the young people and that is why more and more people are joining. The latest of them is Sachin Pilot and just now I saw Kapil Dev... We are not inducting everybody. After careful scrutiny only, we are entering people," Antony said.
Asked if the motive behind inducting people such as Tendulkar and Dhoni was getting killed due to their lack of commitment, the Defence Minister said, "I am saying that most of the people are active. Even today you saw Kapil Dev, he is here. Why are you people not seeing this? Maj Sunil Sawant, Brig K P Singhdeo and many others come to the TA. Don't forget their names."
Antony added that Malayalam cinestar Mohanlal was not just lending his name to the Territorial Army but "he is actively involved in the force attending all the training camps and all the parades."
Meanwhile, Minister of State for Information Technology Sachin Pilot, who was recently commissioned as a regular officer in the volunteer Army, was present on the occasion in his full ceremonial attire.
Former Test cricketer and 1983 World Cup winning captain Kapil Dev, who was accorded the title of Honorary Lt Col in the Territorial Army in 2008, though defended his counterparts saying if the two had time they would certainly make themselves available for such occasions.
"If they (Sachin and Dhoni) have the time they will definitely attend all the functions. They are currently serving the nation through cricket and I believe once they end their cricketing careers they will like to be a part of all the events. They have lot many things to do and it sometimes become difficult to find time," Kapil, who was present on the occasion, said.
The veteran cricketer, however, insisted that the presence of celebrities will motivate the younger generation to be a part of the unit.
"We should spend some time for all these activities as it motivates the new generation. But sometimes one doesn't have the time, he has some prior commitments," Kapil said.
Beijing Olympics gold medallist shooter Abhinav Bindra, who was also conferred the honorary rank of Lt Col along with Dhoni, also gave the occasion a miss.
Photograph: Mukhtar Ahmad/Rediff.com
© Copyright 2019 PTI. All rights reserved. Republication or redistribution of PTI content, including by framing or similar means, is expressly prohibited without the prior written consent.