The spotlight was on the 36-year-old wicketkeeper-batsman, who now has to fend off questions about his future with alarming regularity.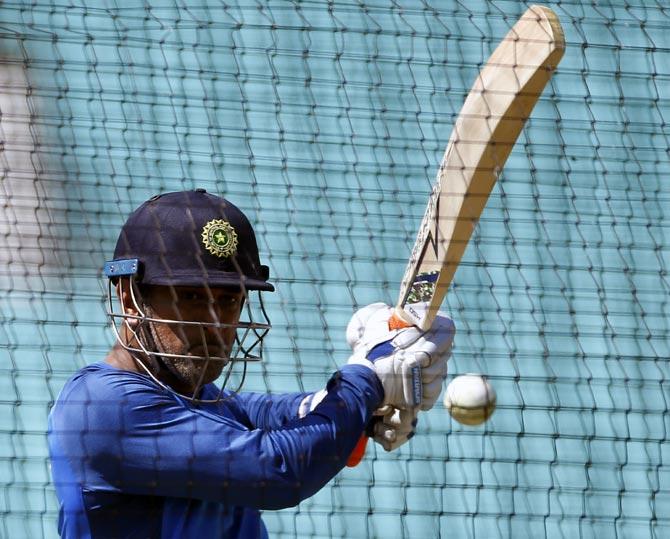 FILE IMAGE: Mahendra Singh Dhoni during a practice session in London. Photograph: Paul Childs/Reuters
Former captain Mahendra Singh Dhoni was the centre of attention as India's ODI specialists enjoyed their first training session, in Dambulla, on Thursday.
It was an optional session where Dhoni, Kedar Jadhav, Manish Pandey, Shardul Thakur, Yuzvendra Chahal and Jasprit Bumrah looked like hitting the right notes ahead of what will be the start of a long limited-overs' engagement for the Men in Blue.

The spotlight though was on the 36-year-old wicketkeeper-batsman, who now has to fend off questions about his future with alarming regularity.

He warmed up by facing different bowlers in the nets -- both Indian and local Sri Lankan bowlers.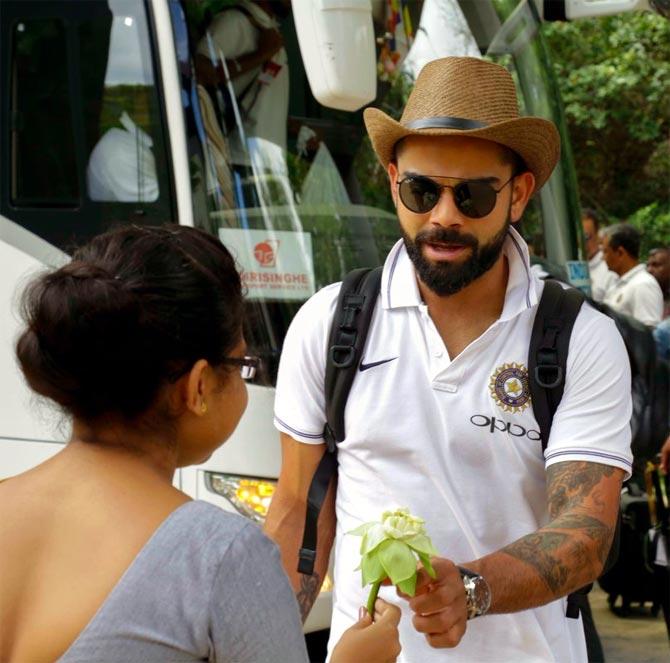 IMAGE: India captain Virat Kohli arrives at the team hotel in Dambulla. Photograph: BCCI/Twitter
Initially, he looked a bit rusty, given that he has not played competitive cricket for almost a month now. But he shrugged it off easily and played some handsome shots against both the pacers and spinners, warming up for the challenges ahead.

Even earlier this past week, chief selector MSK Prasad came to his aid, likening him to Andre Agassi in his latter years.

"He played till 36 and won so many Grand Slams," he had said of the former US tennis player.

Agassi's last Grand Slam win came at the 2003 Australian Open, and he finished runners-up at the 2005 US Open, at ages 32 and 35 respectively. In between, he had only two other semi-final appearances.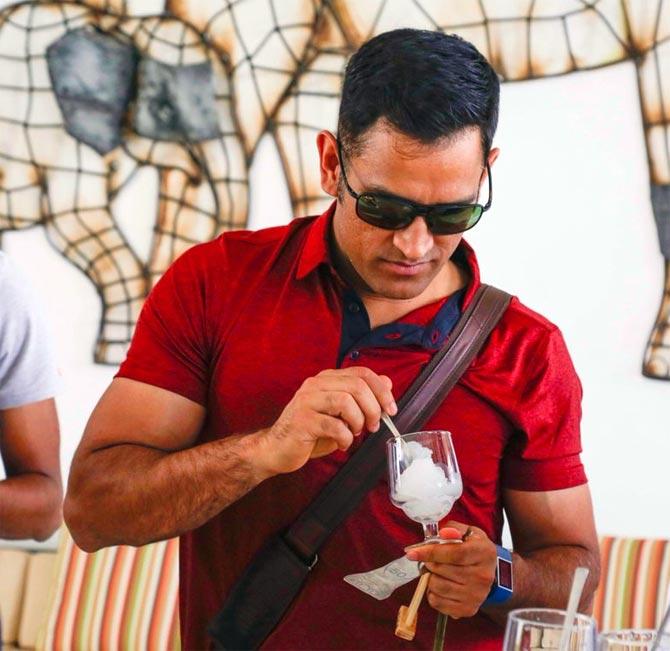 IMAGE: Mahendra Singh Dhoni checks out the welcome drink. Photograph: BCCI/Twitter
Dhoni had led India to the 2014 World T20 finals in Bangladesh, and then to the semi-finals of both the 2015 ODI World Cup (in Australia-New Zealand) and the 2016 World T20 at home.

Then, there are the individual statistics to ponder over.

However it is never easy to judge a batsman like Dhoni on form, as he bats lower down the order wherein the impact made is higher than even averages swelled by unbeaten innings.

It can be seen in his partnership with Yuvraj Singh at Cuttack against England as both batsmen turned back the clock to hit hundreds or the one against Sri Lanka in the ICC Champions Trophy encounter at the Oval, where he helped push the score past 300 after the Indian top-order faltered.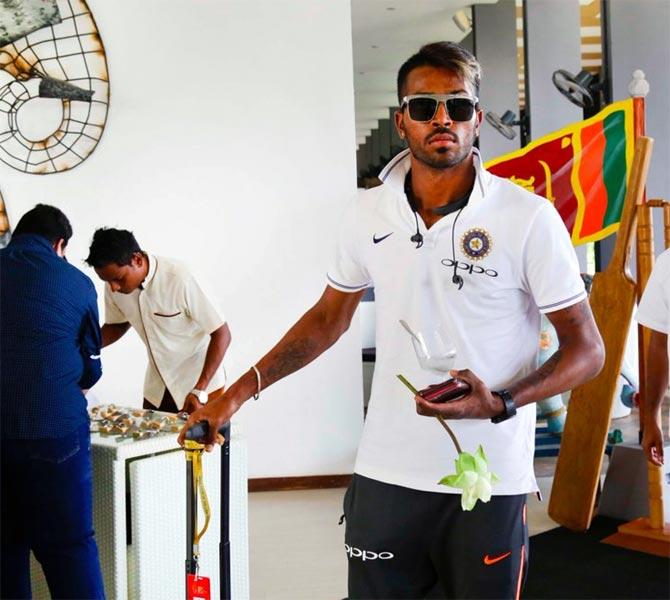 IMAGE: All-rounder Hardik Pandya. Photograph: BCCI/Twitter
Yet, there is no denying that the former skipper has looked a pale shadow of his past glorious self on many occasions, the last of which was in West Indies recently, when he scored a painful 54 off 114 in the fourth ODI at Antigua, as India lost the game by 11 runs.

However, it cannot be denied that Dhoni continues to maintain an impactful presence in the Indian dressing room.

Much of it is to do with his high standards of fitness, comparable to the youngsters in the Indian squad, certainly miles ahead of the likes of Yuvraj and Suresh Raina.

Then there is the element of experience that he brings to the table. He was brilliant withy usage of DRS and even gave inputs about bringing on Jadhav to bowl at vital match situations, an advice which proved valuable against both Lanka and Bangladesh in the semi-final as outlined by Kohli himself.