'A lot will depend on how he performs in the next few months, but he is not a liability.'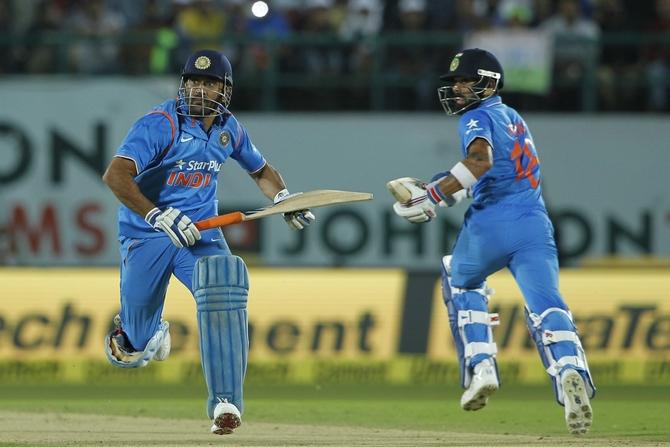 IMAGE: Mahendra Singh Dhoni and Virat Kohli seen during the first ODI against New Zealand at Dharamsala.
Anshuman Gaekwad feels Dhoni needs to bat at number 4.
'He can still come in, take his time, and build an innings.'
Photograph: BCCI
Last week saw Mahendra Singh Dhoni give up the one-day international and T20 captaincy of the Indian team.
Dhoni led the men in blue in 199 ODIs and 72 T20s, winning 110 and 41, respectively. He will be replaced by Test skipper Virat Kohli, whose first challenge as limited overs captain will arrive in the form of England later this month.
Former India coach and opening batsman Anshuman Gaekwad talks to Dhruv Munjal about the timing of Dhoni's decision, his utility as a player, and how the Indian team will look under Kohli.
How do you view Dhoni's decision to call time on his limited overs captaincy? Is this the right time for him to go?
Dhoni's decision came as a bit of a surprise to me, but at the same time, it was very sensible of him.
By quitting, he has shown that every player and more importantly, every captain, has a shelf life.
I feel this is the right time for him to go.
His service to the team and country as captain has been stupendous, and with Kohli waiting in the wings, the correct call has been made.
Dhoni and Kohli are both very different characters. How contrasting are their styles of captaincy?
Comparing the two in leadership terms might be a little unfair.
Dhoni, over the years, was stoic and largely phlegmatic in the way he stewarded the team.
You never saw him lose his calm or be overly expressive on the field.
Unruffled, thoughtful and always in control -- Dhoni had the ultimate qualities that a skipper should have.
He will always be remembered as 'Captain Cool.'
He is perhaps the best captain we've ever had.
Kohli, on the other hand, is more in the face of the opposition.
He is way more vocal and lets his emotions flow on the field. And, there is nothing wrong with that.
As the core of the Indian team mainly comprises young players -- all in their mid-20s -- they can relate to Kohli's fierceness.
With Kohli in charge, Indian cricket is in good hands.
What role will Dhoni play in the team now? Is he still indispensable?
I think it is very important to understand that no player is indispensable.
When I was playing, everyone thought that Sunil Gavaskar and Gundappa Vishwanath would be impossible to replace.
But India has produced Tendulkars, Gangulys and Dravids since. So this replacement cycle will always be in place.
Having said that, Dhoni is still a very important player for the Indian side.
He is a fine batsman and is efficient with the gloves.
A lot will depend on how he performs in the next few months, but he is not a liability. He still has a lot to contribute.
Now that he is no longer the captain, what number do you think Dhoni should bat?
In the past, many people have felt that he bats too lower down in the order. Dhoni doesn't play Test matches anymore, so he's not playing all the time.
With the kind of breaks that he's had, it's not easy to hit form straight away.
As far as his position in the batting order goes, he should bat high up.
He batted at four in the home series against New Zealand and performed well. That may be the position for him.
He can still come in, take his time, and build an innings.
The selectors have picked Yuvraj Singh and Ashish Nehra for the upcoming series against England? Is this a backward step?
In some ways, picking two players on the wrong side of 30 isn't the most prudent decision.
Moreover, they haven't played a lot of international cricket in recent times.
But if you look at it the other way, it is also a step forward because the selectors have rewarded them for their performances in domestic cricket -- that always sends out a positive message to players who aspire to represent the country.
But most importantly, the selectors are treating the England series as an opportunity to figure out the best team for the bigger challenges that will follow.
We have a couple of overseas tours coming up, as well as the Champions Trophy in England.
None of these series are going to be easy.
The next few months will help Kohli determine his best side.