Mahendra Singh Dhoni can make life difficult for a bowler and captain, says Chennai Super Kings batsman Faf Du Plessis.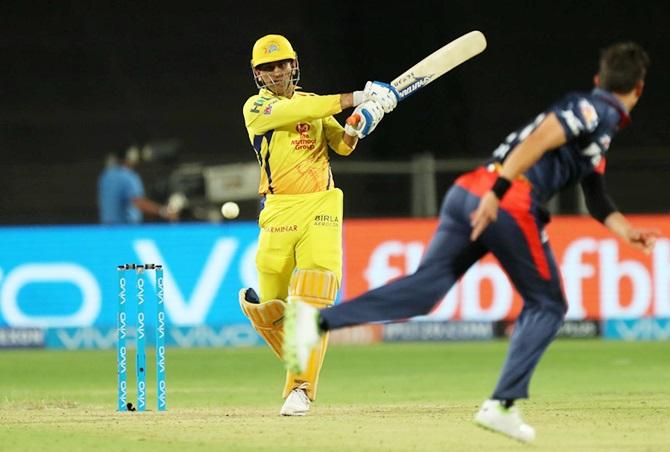 Chennai Super Kings batsman Faf Du Plessis heaped praise on skipper Mahendra Singh Dhoni for his ability to hit any bowler, saying such a trait can make life difficult for any rival captain.
Former Australia batsman Shane Watson played blistering 78 while Dhoni hit a quickfire, unbeaten 51 to guide Chennai to a 13-run victory over bottom-placed Delhi Daredevils in the IPL game in Pune on Monday night.
In the last two games against Royal Challengers Bangalore and Daredevils, Dhoni, with his power hitting, reminded his critics that he is not yet done.
"He (Dhoni) is in really good form at the moment, so it's extremely tough to bowl to him when he is in a form like that. He has got such a big arch and if you want to bowl wide he can still hit you to the leg side," Du Plessis said, at the post-match press conference.
"He has got a lot of options, so it makes life difficult for a bowler and a captain because he can hit any ball to wherever he wants to. That kind of form is obviously very important to us," he added.
Du Plessis also praised young Indian batsman Ambati Rayadu for his "flexibility".
Rayadu has delivered for CSK when asked to open and even required to bat at the number four position.
"Rayadu's flexibility has really impressed me. I have really enjoyed watching him bat in this IPL. The ability to come in and score boundaries from the first ball is a very difficult skill. That ability to come at four and five and score a boundary straight-away, not a lot of people can do that," Du Plessis said.
"With Suresh (Raina) at three and (Rayadu) at four, if we get off to a solid start, the two can just come in and play their natural game which can be dangerous for the opposition. So we are fortunate that we have got a lot of options in the batting unit," the South African skipper maintained.