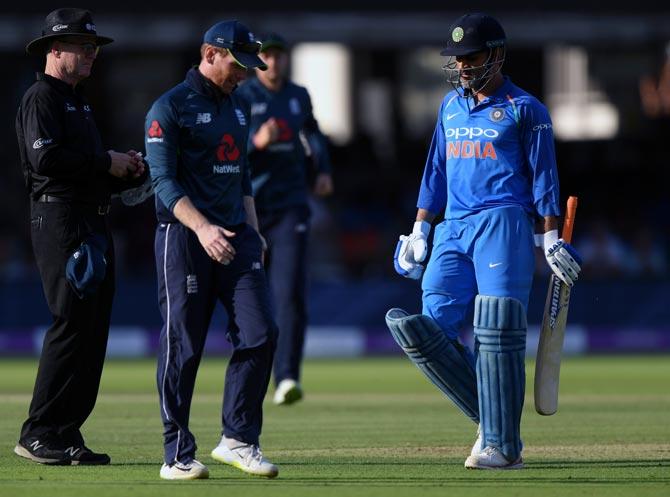 On a day when he crossed the 10,000-run milestone in ODIs, Mahendra Singh Dhoni was booed by the Indian supporters at Lord's for his slow batting during the team's 86-run defeat against England in the second One-Day International on Saturday.

The former India captain was widely criticised for not showing initiative in his 59-ball 37 as India could only manage 236 in 50 overs after England posted 322 for seven.
While England's Joe Root found it "surprising", India's Yuzvendra Chahal said that he was unaware about the booing incident.

Before the start of the 46th over, the match was as good as over with 110 required off 30 balls.

However, the crowd got restless when Dhoni failed to score off the first four balls of David Willey's over. There was booing after every dot ball, a rare occurrence considering the huge fan base Dhoni enjoys around the cricketing globe.

Infact at the end of the over, substitute fielders Shardul Thakur and Axar Patel came in with drinks and a replacement bat, and mostly likely a message from the dressing room to get on with things.

That saw Dhoni change his tactics as he attempted a wild heave off the first ball of the next and was caught at deep midwicket.

Chahal, who came for the post-match press conference, however said that there was no message from the dressing room for Dhoni to accelerate.

"I don't know what was said to him (when he changed bats). After Hardik (Pandya) was dismissed, there was only me, Siddarth Kaul, Umesh Yadav and Kuldeep (Yadav). So it wasn't like there were 2-3 specialist batsmen remaining.

"He hadn't batted much, so this was a chance to get a knock. If he had hit a shot earlier and got out, we couldn't have even batted all 50 overs," Chahal said.

While it didn't concern the English team, Root did find it a bit surprising.

"Yes (it was surprising), but ultimately it doesn't really concern us. We always try and judge how we approach the game and how we go about things. We try to maintain a professional approach and be as ruthless as possible. We managed to see India through by bowling them out by the end of the game. So we are looking after our own game and putting ourselves in a strong position by the end of the game," Root said

Captain Virat Kohli had also defended the veteran batsmen after his struggling knock.

When former England skipper Nasser Hussain, at the post-match presentation ceremony, asked about Dhoni's approach, Kohli said, "This thing comes up again and again when he's not able to play the way he does.

"It's unfortunate that people jump to conclusions quickly. When he does well, people call him the best finisher ever, and when things do not go well, people pounce on him," a trifle irritated with knee-jerk reactions from fans and critics alike.

As he has done umpteen times, India's captain defended Dhoni.

"The idea was to take the innings deep. He has the experience but sometimes it doesn't come off. We totally believe in him and the ability of all the players," he said.