'It is absolutely right, because we play so much cricket that we do not get much preparation time when we go overseas to play. But as an international cricketer, this is also a challenge'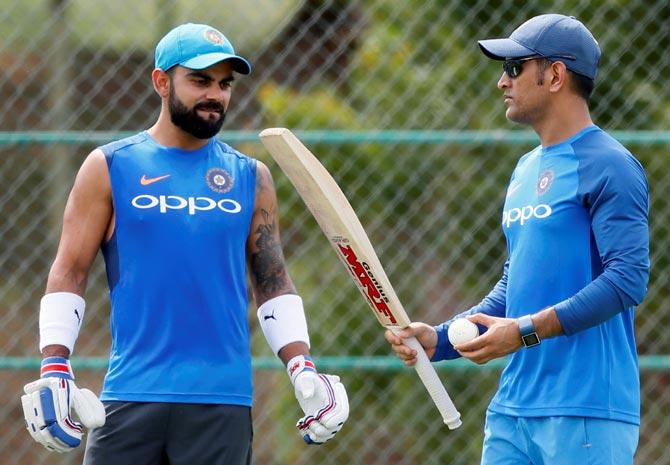 IMAGE: Virat Kohli and MS Dhoni. Photograph: Dinuka Liyanawatte/Reuters
Senior India player Mahendra Singh Dhoni backed captain Virat Kohli on the issue of cramped scheduling and said that the team needs time to get used to the conditions in tours like South Africa.
Dhoni is not in the Test side but will be in the ODI team in the upcoming South Africa tour.
"It is absolutely right, because we play so much cricket that we do not get much preparation time when we go overseas to play. But as an international cricketer, this is also a challenge," Dhoni said in Kunzer, Jammu and Kashmir on Sunday.
"It takes some time to get used to, but if you see this team, there are many cricketers who have played overseas and it helps a lot. If they get six to eight or 10 days, it is good, but whatever time they get, I think they will do well," he said in response to a question about Kohli's statement.
The former India captain was speaking to reporters on the sidelines of a match played at Kunzer cricket ground, 35km from Srinagar, in north Kashmir's Baramulla district.
Dhoni was the chief guest at the finals of the Chinar Cricket Premier League, organised by Srinagar-based Chinar Corps of the Army.
"This time when the (Test) team leaves for South Africa, they will only get some time to prepare before playing the matches. The ODI team after that will also want to try to get seven to eight days because the conditions are different there, there is more bounce," he said.
Asked whether there should be a bilateral series between India and Pakistan, Dhoni said it should be best left to the government.
"When it comes to India-Pakistan cricket, it is not just sports, but becomes much bigger than that. It is not a simple decision, but a diplomatic and a political decision," he said.
"So, it is a big decision and I think we should leave it to the government to decide. If the government decides, we will go and play and if they decide against it, we will play some other series," he added.
He said when the Indian cricket team plays, more than the sporting aspect, the economic aspect is also involved.
"It's not just cricket and to say that it's just cricket, would be wrong. It is much more than that and it impacts economy a lot.
"It is said that sports should be kept away from politics, but when it comes to cricket and involvement of Indian cricket team -- be it a bilateral series or any big tournament -- it is not just cricket because wherever we go to play, we generate a lot of money and ultimately that money flows into the economy," said Dhoni.
In response to a question about Suresh Raina's comments that he often gets angry, Dhoni said he conducted himself according to the situation.
"We also enjoy inside the dressing room, we talk, the pitch-level is sometimes high and sometimes low. The meaning of cool that we associate is calm and if not cool then an angry one," he said.
"There are many zones in the middle of it where you enjoy and make fun. Once (I am playing) in the ground, I do not joke around, but inside the dressing room I enjoy a lot. So, I conduct myself according to how I think I should conduct myself in different areas," he said.