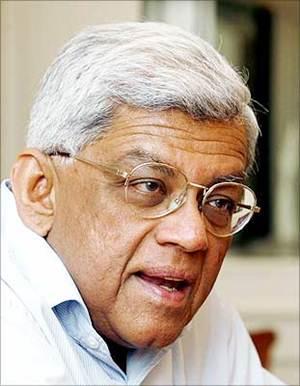 The Board of Control for Cricket in India, following a request from Sunil Gavaskar, interim president BCCI-IPL, has appointed Deepak Parekh as his special advisor for the 2014 season of the Pepsi Indian Premier League.
Parekh, who is the chairman of Housing Development Finance Corporation, India's leading housing finance company, and also on the boards of many Indian and international corporates, is an avid cricket follower, and his management skills are well-documented.
Known as the unofficial crisis consultant of the government, he will be a special invitee to the IPL Governing Council meetings.
"I am delighted that Deepak has accepted my invitation to come on board as a special advisor and special invitee to the Indian Premier League Governing Council. It is apt that an individual of the calibre of Mr. Parekh will be joining the BCCI-IPL's leadership group," said Gavaskar, who was installed by the Supreme Court as the interim head of the BCCI in place of incumbent Narayanaswami Srinivasan, who was stripped of his powers as BCCI president.
"With a diverse combination of skills and experience, this appointment will result in a well-rounded senior management team at the IPL -- one that will set the direction for a better and bigger league," the legendary batsman and former India captain added.
Ranjib Biswal, chairman of the IPL Governing Council, welcomed Parekh, saying, "We are pleased to have Mr Deepak Parekh in our team. His expertise will enable us to deliver a memorable IPL."
Accepting the appointment, Parekh said, "I am excited to be invited to be a part of the IPL. I look forward to fulfilling this challenging new role on the IPL's senior leadership team as an advisor to Mr Gavaskar, as we look to strengthen the Indian Premier League."
Image: Deepak Parekh