'With India's history, maybe this series will not be a fait accompli. I do feel the result will go India's way to the tune of a 2-0 or 3-0 result, as I just can't see Australia winning a Test anywhere'
'Trying to find a weakness in Kohli's game is like trying to find something wrong with the Mona Lisa'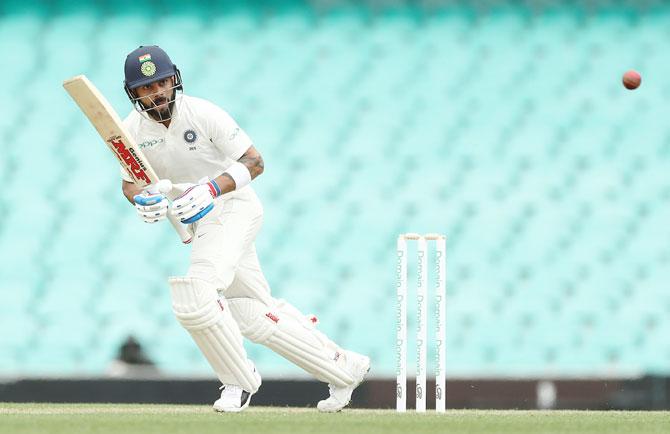 Former Australian batsman Dean Jones doesn't foresee the current Australian team beating India in the upcoming Test series and feels the hosts will be better off without "provoking" opposition skipper Virat Kohli.
The Australian players' on-field behaviour has been in focus in wake of the ball-tampering scandal in South Africa. They have been criticised for toning down the quintessential "Australian aggression" but Jones said not engaging Kohli in a verbal battle will serve them well.
"Do not talk or provoke him. Make him your best mate."
On how to contain Kohli the batsman, Jones added: "Trying to find a weakness in Kohli's game is like trying to find something wrong with the Mona Lisa. Teams must stop his cover drive and bowl in different areas.
"At the start of Kohli's innings, quicks need to bowl at a fourth-stump line and make him play on the back foot. Do not give him width and length outside off-stump.
"Bowlers must try to set him up with short stuff first and then the odd wide ball on the drive to find the edge. Slips and gully stay on high alert."
Australia are a depleted unit in the absence of Steve Smith and David Warner, providing India their "best" chance of winning a maiden Test series Down Under.
"If India don't win this series, they will never win in Australia. India are miles better than Australia in all formats but do they have the belief, and will their fast bowlers last the distance?" Jones was quoted as saying by the Sydney Morning Herald.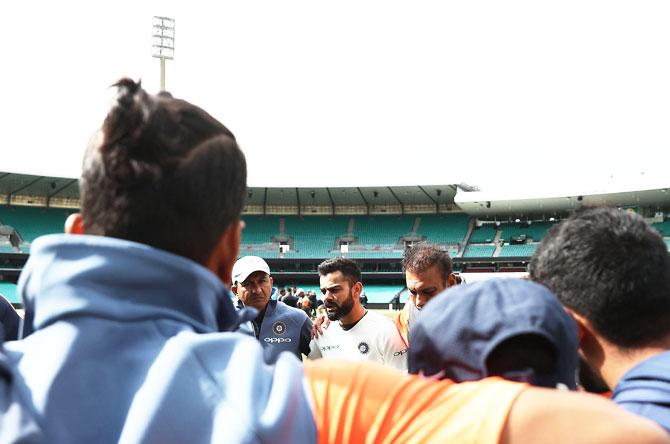 Despite India having a poor overseas record, Jones has backed the visitors to win the four-Test series starting December 6 at Adelaide.
"With India's history, maybe this series will not be a fait accompli. I do feel the result will go India's way to the tune of a 2-0 or 3-0 result, as I just can't see Australia winning a Test anywhere.
"Normally when Australia play at home they are very hard to beat. But now there is no Steve Smith and David Warner, who consistently make 40 per cent of Australia's runs. For Australia to win, who is going to fill those shoes?" asked Jones, who played 52 Tests and 164 ODIs.
Jones cited India's tour of 1986, when Australia had travelled with an inexperience team just like they have now.
"In 1986, Australia were in a similar position when they toured India. Australia had a very inexperienced team. But what they did have was two great leaders: Allan Border and Bob Simpson.
"The players didn't worry about the opposition too much, they just looked within and worried about themselves. Border and Simpson privately spoke to each player and helped each individual organise their game plan.
"Within weeks, the team was very much committed, with game plans sorted, as they had the total support from the coach and captain. All we had to do was execute," Jones added.
Australia had the drawn the Test series back then and lost the ODIs 2-3.