South Africa grabbed the second Test against New Zealand by the scruff of the neck on Friday, reducing the hosts to 65 for four at the close of the second day's play at Seddon Park in Hamilton.
The hosts were still three runs behind South Africa's first innings score of 253 with Kane Williamson (41) and Daniel Vettori (nought) together at the close after they had slumped to 7-3 in the first 25 balls of their second innings.
Rob Nicol was bowled by Vernon Philander for one when the ball thudded off his pads and bounced back onto the stumps, Brendon McCullum was trapped in front by Philander for five then Martin Guptill hit the ball straight to Hashim Amla at mid-wicket off Dale Steyn to leave New Zealand floundering.
Ross Taylor and Williamson were worked over by South Africa's pace trio but began to resurrect the innings and gave the hosts a slim chance of going into the third day only three wickets down.
Taylor, however, was trapped lbw by Steyn for 17 with a little more than two overs remaining in the day and with the match so well advanced, South Africa are heavily favoured to take a 1-0 lead in the best-of-three series.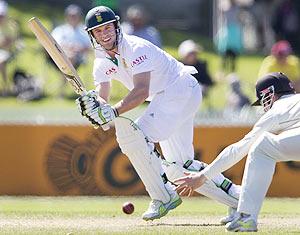 The visitors had established a 68-run first innings lead courtesy of AB de Villiers' top score of 83 and the tail producing 165 runs after Mark Gillespie had ripped the heart out of South Africa's batting line-up with career best figures of five for 59.
While De Villiers ensured his side passed New Zealand's 185, after the hosts had lost five wickets for no runs late on the first day as they slumped from a comfortable 133-2 to 133-7 in the space of about 15 minutes, his more valuable contribution was guiding the tail-end partnerships.
He combined with Mark Boucher (24), Philander (14) and Morne Morkel for 131 runs after Gillespie's spell in the first session had reduced them to 88 for six.
Imran Tahir (16) and Morkel (35 not out) then added another 34 runs for the final wicket as the visitors eked out a valuable advantage before Tahir was caught by Gillespie off the bowling of Williamson.
Gillespie, who returned to the side after last playing a Test in December 2008, had figures of 4-24 from seven overs before lunch and completed his second five-wicket haul in his fourth Test when he bowled Boucher, surpassing his previous best figures of 5-136, also against South Africa.
Scoreboard (at stumps)
New Zealand 1st innings: 185
South Africa 1st innings: (overnight 27 for two)
G Smith c van Wyk b Martin13
A Petersen lbw b Gillespie 29
D Steyn c van Wyk b Martin 4
H Amla c Williamson b Gillespie 16
J Kallis c van Wyk b Gillespie 6
A B de Villiers b Vettori 83
J Rudolph c van Wyk b Gillespie 1
M Boucher b Gillespie 24
V Philander b Bracewell 14
M Morkel not out 35
I Tahir c Gillespie b Williamson16
Extras: (B-1, LB-9, W-1, NB-1) 12
Total: (all out in 77.3 overs) 253
Fall of wickets: 1-14, 2-18, 3-63, 4-69, 5-84, 6-88, 7-151, 8-185, 9-219, 10-253
Bowling: Martin 16-6-38-2, Bracewell 18-7-50-1, Gillespie 15-2-59-5, Vettori 19-3-49-1, Arnel 9-2-46-0, Williamson 0.3-0-1-1
New Zealand 2nd innings:
R Nicol b Philander 1
M Guptill c Amla b Steyn 1
B McCullum lbw b Philander 5
R Taylor lbw b Steyn 17
K Williamson not out 41
D Vettori not out 0
Extras: 0
Total: (4 wickets in 31 overs) 65
Fall of wickets: 1-1, 2-7, 3-7, 4-64
Bowling: Steyn 9-4-10-2, Philander 7-1-21-2, Morkel 7-4-12-0, Tahir 8-2-22-0.