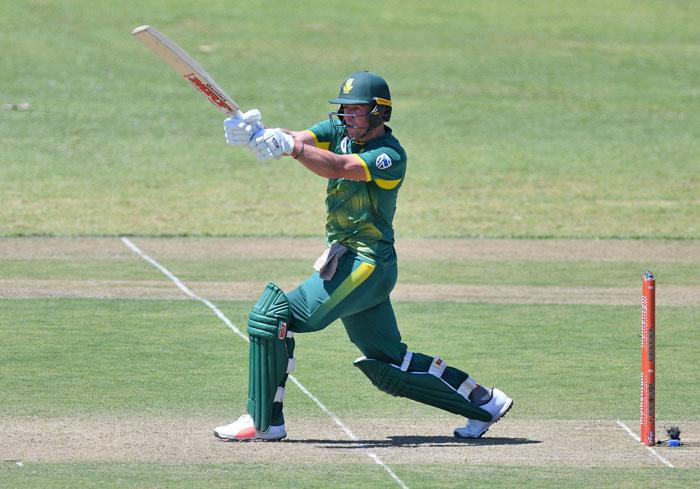 IMAGE: South Africa's AB de Villiers hits out during the 2nd Momentum ODI against Bangladesh at Boland Park in Paarl, South Africa, on Wednesday. Photograph: Thinus Maritz/Gallo Images/Getty Images
AB de Villiers feels he is hitting the ball as sweetly as ever following his recent break from the South African side, an ominous sign for bowlers ahead of a busy season across all three formats.
South Africa were given a glimpse of what they have been missing as De Villiers flayed Bangladesh's attack with stunning ease on his way to a career-best one-day international score on Wednesday.
He smashed 176 from 104 balls, including seven towering sixes, as South Africa sealed the three-match series with a game to spare following a 104-run victory.
"I'm hitting the ball as well as ever and it felt that way out there, I could feel the ball coming off really well," he told reporters.
"It's just nice to contribute."
De Villiers had been on a self-imposed exile from the side, but announced last month he would be available again in all three formats as South Africa prepare to welcome India and Australia for respective Test series in the coming months.
"I just needed a couple of months away with the family, which I got," he said.
"I watched all the games the guys played and I've been in contact with them. It felt like I never really left, but I did miss being on the park and playing.
"It's great to be back. It's a huge privilege to play for my team and my country. For the last few months, I've been working really hard on my game and all I wanted to do was get back into the side."
De Villiers hinted in the past that he may retire from Test cricket to concentrate on the limited-overs game, but appears to have performed an about-turn and is now hopeful of a return to the longest format for the first time since January 2016.
"If selected, I will be there but I can't accept that I am going to be in the squad," he said.
"I have been out of the squad for a while and guys that have come in have done well.
"You don't just walk into the Test team. I am going to have to work my way back. I am prepared to do the hard work."
South Africa host Zimbabwe in an inaugural four-day Test starting on Boxing Day, before three matches against India in January and four versus touring Australia in March.
SCOREBOARD
South Africa:
Hashim Amla c Rahim b Hossain 85
Quinton de Kock lbw b Al Hasan 46
Faf du Plessis b Al Hasan 0
AB de Villiers c Rahman b Hossain 176
JP Duminy lbw b Hossain 30
Farhaan Behardien not out 7
Dwaine Pretorius c Kayes b Hossain 0
Andile Phehlukwayo not out 0
Extras: (LB-2, W-7) 9
Total: (for 6 wickets in 50 overs) 353
Fall of wickets: 1-90, 2-90, 3-226, 4-343, 5-353, 6-353.
Bowling: Mashrafe Mortaza 10-0-82-0, Taskin Ahmed 9-0-71-0, Shakib Al Hasan 10-0-60-2, Nasir Hossain 8-0-49-0, Rubel Hossain 10-0-62-4, Sabbir Rahman 1-0-11-0, Mahmudullah 2-0-16-0.
Bangladesh:
Tamim Iqbal lbw b Pretorius 23
Imrul Kayes c de Villiers b Tahir 68
Liton Das lbw b Phehlukwayo 14
Mushfiqur Rahim c Duminy b Pretorius 60
Shakib Al Hasan c de Kock b Tahir 5
Mahmudullah b Phehlukwayo 35
Sabbir Rahman c du Plessis b Tahir 17
Nasir Hossain b Phehlukwayo 3
Mashrafe Mortaza lbw b Phehlukwayo 0
Taskin Ahmed not out 3
Rubel Hossain b Paterson 8
Extras: (LB-4, W-9) 13
Total: (all out in 47.5 overs) 249
Fall of wickets: 1-44, 2-69, 3-162, 4-171, 5-184, 6-219, 7-234, 8-234, 9-239, 10-249.
Bowling: Kagiso Rabada 9-1-40-0, Dane Paterson 8.5-0-67-1, Dwaine Pretorius 10-0-48-2, Andile Phehlukwayo 10-1-40-4, Imran Tahir 10-0-50-3.