- It has been learnt that Ranchi has been kept on stand-by in case DDCA fails to organise the India vs Sri Lanka 2nd T20I match on February 12.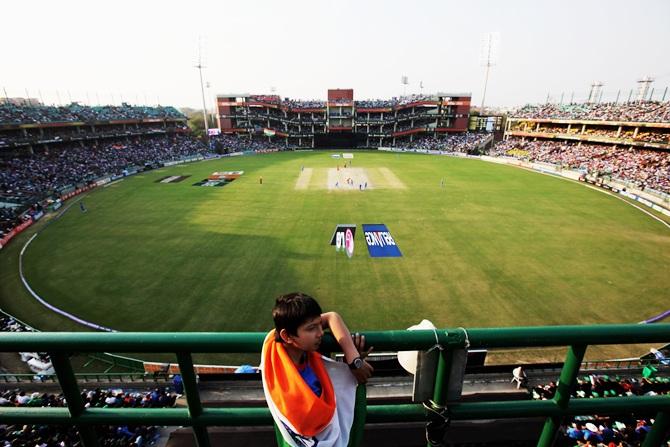 IMAGE: The Feroz Shah Kotla stadium in New Delhi. Photograph: Daniel Berehulak/Getty Images
Board of Control for Cricket in India secretary Anurag Thakur shot off an e-mail to the faction-ridden Delhi & Districts Cricket Association (DDCA) enquiring whether they can host the second T20 International between India and Sri Lanka scheduled to be played at the Feroz Shah Kotla ground in New Delhi, on February 12.

The situation arose after DDCA patron Manjit Singh, who is also a member of BCCI's Tours and Fixtures Committee, wrongly informed Thakur and Game Development Manager Ratnakar Shetty during a meeting in Mumbai that they have all the required compliance certificates in order to host the Twenty20 International match.

However, Thakur got to learn that DDCA had no clearances in hand when he met some of their senior officials last Saturday.

It has been learnt that Ranchi has been kept on stand-by in case DDCA fails to organise the match.

DDCA treasurer Ravinder Manchanda admitted that they have indeed received such an e-mail from BCCI.

"The deadline given by Anurag Thakur in his e-mail is today (January 25th evening). We have not yet replied to his e-mail. All the compliance certificates from competent authorities will take some time to come. Also Mr Thakur (BCCI secretary) was under the impression that we had all the certificates ready," Manchanda said on Monday.

In fact, DDCA is caught in a dilemma as to how they would revert to BCCI after the faux-pas that has happened.

When High Court-appointed observer for Delhi matches Justice Mukul Mudgal was asked on the situation, he replied: "I am in charge of supervision of matches. The mail has been written to the DDCA and it is their duty to answer the mail. I know the deadline is today."

It has been learnt that Manjit did not consult senior DDCA officials before assuring Thakur.

Manjit was included in BCCI's Tour and Fixtures Committee on the recommendation of a controversial DDCA official, who is also a BCCI office bearer.

A DDCA official who worked with Justice Mudgal during the South Africa Test match in December said, "The nine-member core committee that will be formed for the World T20 will not have that BCCI office-bearer as there are chances that it might lead to a lot of controversies."